Heartbreak mounts Alice in Lockdown tour
Published: 5 August 2020
Reporter: Steve Orme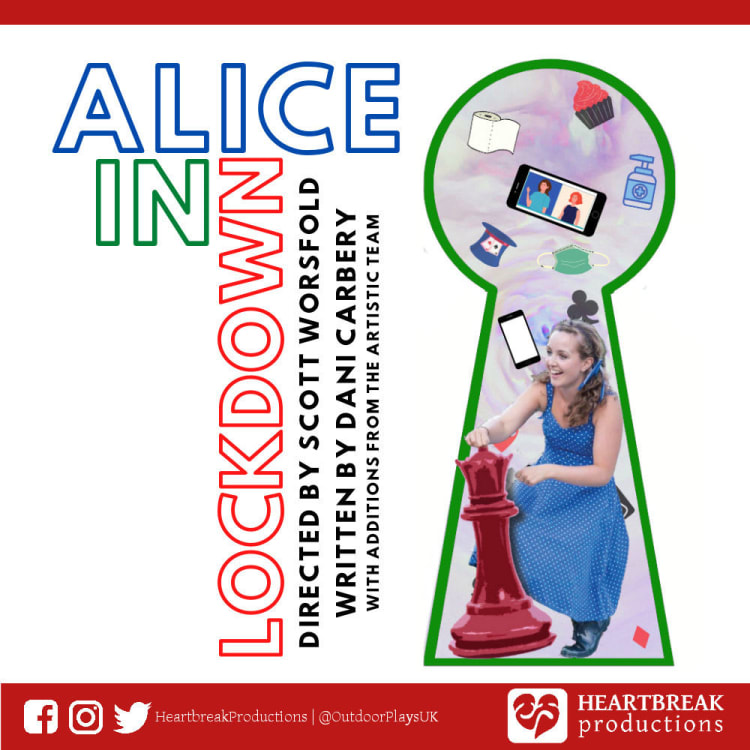 Leamington Spa-based Heartbreak Productions has started a socially distanced, open-air mini tour of Alice in Lockdown, with Alice's adventures being "the perfect antidote to the stay-at-home blues".
Written by Dani Carbery and directed by Scott Worsfold, Alice in Lockdown features Alice venturing through the lockdown looking glass and exploring a curious world filled with Cheshire cats, white rabbits and red queens, all while keeping a safe distance of two metres and using personal protective equipment to do her shopping. The cast comprises Jason Ryall and Abigail Castleton.
Heartbreak has made some adjustments because of coronavirus. When audience members arrive, they will be guided to a socially distanced 'island' based on the size of their party. All islands will be spaced two metres apart.
Heartbreak has "worked very hard to implement social distancing and hygiene measures, minimising the risk of coronavirus transmission".
For most performances, 40 discounted tickets will be reserved for people who otherwise would not be able to afford to go to the show and for those working in the NHS.
The tour will go to Sheffield Botanical Gardens on 5 and 6 August, Newham Grange Farm, Middlesbrough on 7 August, Hartland Abbey, Bideford, Devon on 12 August, Blackberry Farm, Milton Damerel, north Devon on 13 August, Oxford Castle and Prison on 14 August, Coventry Cathedral Ruins on 15 August, Tamworth Castle on 16 August, The Bishop's Castle and Gardens, Wells, Somerset on 18 August, Dartington Hall, Totnes, Devon on 19 and 20 August, Castle Bromwich Hall Gardens on 21 and 22 August, Tapeley Park, Instow, Great Torrington, Devon on 23 August, Castle Hill, Filleigh, Barnstaple, Devon on 24 August, Mill Gardens, Leamington Spa on 26 August, Stirchley Chimney, Telford, Shropshire on 27 August and Riverside Theatre, Coleraine, Northern Ireland on 29 August.