International companies come into Contact with Corby and Manchester youngsters
Published: 8 July 2012
Reporter: Steve Orme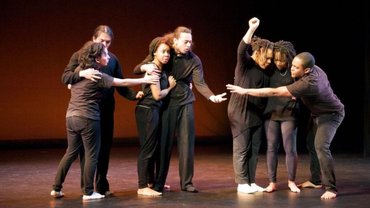 An international theatre festival gets under way at Contact Theatre in Manchester before moving to The Core at Corby Cube, Northamptonshire this week.
Contacting the World 2012 has been conceived and co-ordinated by Manchester's Contact Theatre.
It takes place every two years and aims to "create a mutual understanding between young people from different backgrounds while producing new work which reflects cultural and creative diversity."
Three young companies, First Wave Hip Hop Theater from the USA, Moradokmai Theatre Community from Thailand and YARD Theatre from Nottingham, will be appearing in Manchester and Corby.
Each company will perform original pieces and will also work with young people and schools to develop new, short performances.
First Wave Hip Hop Theater from the University of Wisconsin is a collective comprising students on a groundbreaking course which combines academia and street arts.
Its "high-energy performance contains cutting-edge spoken word, dance and music" and can be seen at Contact on Tuesday (10 July) and The Core on Thursday (12 July) at 7.30pm.
Moradokmai is made up of young people who live, work, study and perform together, blending Thai and western traditions of theatre, classical dance and music. The group will be on stage at Contact on Wednesday (11 July) and The Core on Thursday 19 July.
YARD (Youth Arts Research and Development), "the largest visual arts organisation dedicated to contemporary diverse arts outside London", will present Face Me on Friday, 20 July.
Each evening will feature a short performance created by young people from local schools with whom the companies have been working.
Audiences can also get involved by taking part in free workshops led by the theatre company performing that evening. Workshops start at 6pm. Places are limited and can be booked through the ticket offices on 0161 274 0600 (Manchester) on 01536 470470 (Corby) and online at contactmcr.com or www.thecorecorby.com.