Leicester theatre looks for dogs to lead musical production
Published: 27 May 2012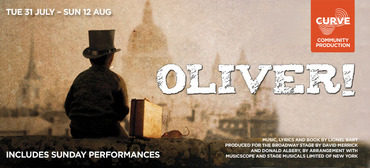 Curve in Leicester is holding casting calls with a difference: it's looking for dogs to play the role of Bullseye in its community production of Oliver!.
Director Paul Kerryson is looking for more than one animal to play Bill Sikes's brutal sidekick.
He said, "I'm looking for a bulldog, English Terrier or similar breed of dog to perform in different performances of Oliver!.
"They will need to act fiery on stage as well as being friendly backstage and in rehearsals.
"This is a unique opportunity and the successful dogs will have a substantial role in the production.
"Owners can of course be on hand in the wings—it will be a memorable experience for an owner and their best friend."
The pets and their owners must be available for rehearsals starting early in July and for the show which runs from Tuesday, 31 July until Sunday, 12 August.
Interested owners should contact assistant producer Alex Smith by Friday (1 June) on 0116 242 3560 or by e-mail: a.smith@curvetheatre.co.uk.