Lichfield conjures up storm in festival's second week
Published: 8 July 2012
Reporter: Steve Orme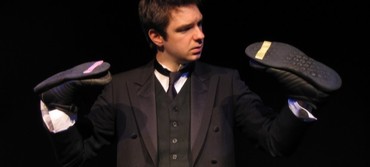 Several theatrical productions take to the stage as Lichfield Festival moves into its second and final week.
Little Earthquake's trademark of transforming everyday objects into the stuff of nightmares will be evident when it performs Madman in the Garrick Studio tomorrow (Monday) and on Tuesday.
Based on Nikolai Gogol's Diary of a Madman, the show invites you to experience the world according to Poprishchin who's hounded by talking dogs and harassed by a plate-smashing mother.
The Reduced Shakespeare Company shrinks great sporting events down to size in The Complete World of Sports (Abridged) in the Garrick on Tuesday.
The Garrick Studio hosts a new play inspired by the story of William Hackett, a miner who became entombed in a tunnel during World War I, on Wednesday and Thursday.
Oliver Lansley's The Trench, presented by Les Enfants Terribles, blends live music, puppetry and physical performance.
Over at the George Hotel Terence Rattigan meets Alan Ayckbourn in a double bill of middle-class English tragicomedy as Intimate Theatre stages The Browning Version and A Talk in the Park on Thursday and Friday.
Back at the Garrick Studio, there'll be a work in progress, Caroline Horton's Mess, on Friday and Saturday, while on the main stage at the Garrick Compagnie Arcosm from France presents contemporary dance in Echoa, also on Friday and Saturday.
Festival regulars MDCC Theatre Company performs William Shakespeare's The Tempest in Stowe House Gardens on Saturday at 2pm.