M6 dig below the surface
Published: 22 April 2012
Reporter: David Upton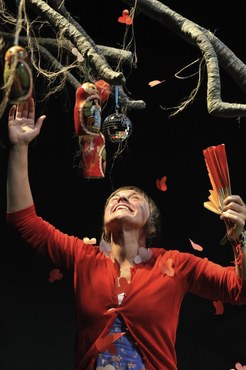 M6 Theatre Company is on the road again this summer with Sunflowers and Sheds, a tale of friendship, family and fun on the allotment. Frank's peaceful routine is turned upside down by the arrival of lively Isabella and her chickens on the neighbouring plot. With patience and a sprinkling of understanding, we see this special friendship grow alongside their crops.
The creative team includes co-writers/directors Gilly Baskeyfield (M6's Early Years Theatre Associate) and Dot Wood (M6's Artistic Producer) and composer Tayo Akinbode (Royal Shakespeare Company, Liverpool Everyman and Royal Exchange). The production also reunites the acting team from the company's acclaimed production One Little Word, Eve Robertson and Luke Walker.
Dot Wood explains: "I chose to set the story of this unlikely friendship on the fertile ground of an allotment—a place where the patchwork and diversity of people and plants grow side by side. Sunflowers and Sheds gives children the opportunity to discover what lies beneath the surface—of soil and people. Through a visually delightful set, original music and strong emotional journey, we rediscover that surprises are more enjoyable and disappointments more bearable, when shared with a friend."
M6 Theatre Company, founded in 1977 and based in Rochdale, is acknowledged as one of Britain's leading theatre companies specialising in creating and delivering high quality theatre for young audiences.
Details: www.m6theatre.co.uk