Manchester Theatre Award winners
Published: 17 March 2017
Reporter: David Upton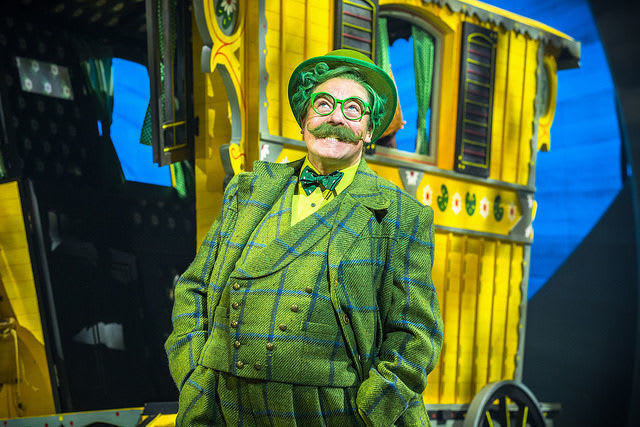 Manchester's Royal Exchange theatre had a bumper haul of trophies from the Manchester Theatre Awards, revealed at a star-studded event at the city's HOME venue.
Julie Hesmondhalgh was an especially popular winner of the Best Actress award for her role as a cancer patient in the American play Wit last year. She remains best known to many as Hayley Cropper in TV's Coronation Street.
Daniel Rigby was chosen Best Actor for his part as Manchester computer scientist Alan Turing in Breaking The Code, also at the Exchange, and which was also chosen as Best Production and won supporting actress honours for Natalie Dew.
Unusually, the venue also won Best Musical for its re-staging of Sweet Charity, while its commitment to the Bruntwood Prize for Playwriting paid dividends with three trophies for the studio production of Wish List, including awards to its two lead players Joseph Quinn and Erin Doherty.
Rufus Hound was chosen Best Actor in a Visiting Production for his part as Toad in the new musical version of The Wind in The Willows which premièred at The Lowry.
HOME itself won a best newcomer prize for Norah Lopez Holden in Ghosts, as well as Best New Play for The Emperor, starring Kathryn Hunter.
The Newcomer choice was a particularly crowded category this year and the judges, for the first time, also recognised the special contribution made by two teams of young performers in Billy Elliot at Manchester Palace, and To Kill A Mockingbird at Bolton Octagon.
Joyce Branagh, sister of Kenneth, won Best Fringe Performance for her production of Boomtown Gals.
The Robert Robson Award for Best Dance—named in honour of the late artistic director of The Lowry—was won by Akram Khan's vivid re-styling of Giselle at Manchester Palace Theatre.
Bolton Octagon Theatre's spirited revival of Singin' In The Rain won both the Design and Ensemble awards.
One of the city's newest venues, the Hope Mill Theatre, won Best Fringe production for The Trial, besides nominations in other categories. It was also given a Special Achievement award by the 10-strong panel of regional theatre critics who choose the Manchester Theatre Awards.
Manchester Theatre Awards 2016
(Winners in bold)
Actor in a leading role
Rob Edwards, To Kill A Mockingbird, Octagon Theatre Bolton
David Nielson, Endgame, HOME, Manchester
Daniel Rigby, Breaking The Code, Royal Exchange, Manchester
Don Warrington, King Lear, Royal Exchange, Manchester
Actress in a leading role
Niamh Cusack, Ghosts, HOME, Manchester
Kaisa Hammarlund, Sweet Charity, Royal Exchange, Manchester
Julie Hesmondhalgh, Wit, Royal Exchange, Manchester
Kathryn Hunter, The Emperor, HOME, Manchester
Production
Breaking The Code, Royal Exchange, Manchester
Ghosts, HOME, Manchester
The Emperor, HOME, Manchester
Wit, Royal Exchange, Manchester
Actor in a supporting role
Daniel Crossley, Sweet Charity, Royal Exchange, Manchester
Raad Rawi, Breaking The Code, Royal Exchange, Manchester
Marc Small, To Kill A Mockingbird, Octagon Theatre Bolton
Miltos Yerolemou, King Lear, Royal Exchange, Manchester
Actress in a supporting role
Natalie Dew, Breaking The Code, Royal Exchange, Manchester
Sharon Duncan-Brewster, A Streetcar Named Desire, Royal Exchange, Manchester
Natalie Grady, Martha Josie and the Chinese Elvis, Octagon Theatre Bolton
Amy Nuttall, The Winter's Tale, Octagon Theatre Bolton
Visiting Production
946: The Amazing Story of Adolphus Tips, HOME, Manchester
A Girl is a Half-Formed Thing, Lowry, Salford
Love's Labour's Lost / Much Ado About Nothing, Opera House, Manchester
The Encounter, HOME, Manchester
The James Plays, Lowry, Salford
Actor in a Visiting Production
Edward Bennett, Love's Labour's Lost / Much Ado About Nothing, Opera House, Manchester
Rufus Hound, The Wind in the Willows, The Lowry, Salford
Simon McBurney, The Encounter, HOME, Manchester
Michael Pennington, King Lear, Opera House, Manchester
Actress in a Visiting Production
Lisa Dillon, Love's Labour's Lost / Much Ado About Nothing, Opera House, Manchester
Aoife Duffin, A Girl Is A Half-Formed Thing, Lowry, Salford
Lisa Maxwell, End Of The Rainbow, Opera House, Manchester
Zizi Strallen, Mary Poppins, Palace, Manchester
Newcomer
Daisy Badger, Look Back In Anger, Octagon Theatre Bolton
Ben Hunter, The Girls, Lowry, Salford
Norah Lopez Holden, Ghosts, HOME, Manchester
Kirsty Rider, Pride And Prejudice, Lowry, Salford
Holly Willock, The Wind In The Willows, Lowry, Salford
Young newcomers
Young Michael cast, Billy Elliot, Palace, Manchester - Samuel Torpey, Henry Farmer, Bradley Mayfield and Elliot Stiff
Young Scout cast, To Kill A Mockingbird, Octagon Theatre Bolton - Jasmine de Goede and Lucy Doyle Ryder
Opera
Andrea Chénier, Opera North, Lowry, Salford
Billy Budd, Opera North, Lowry, Salford
Don Giovanni, ETO, Buxton Opera House
Tamerlano, Buxton Festival, Buxton Opera House
The Robert Robson Award for Dance
Akram Khan's Giselle, Palace, Manchester
Alvin Ailey American Dance Theater, Lowry, Salford
Nederlands Dans Theater 2, Lowry, Salford
The Red Shoes, Lowry, Salford
Musical
Billy Elliot, Palace, Manchester
Parade, Hope Mill Theatre, Manchester
Singin' in the Rain, Octagon Theatre Bolton
Sweet Charity, Royal Exchange, Manchester
The Wind in the Willows, Lowry, Salford
Fringe Production
Boomtown Gals, Various venues
Die Diana, Bandit, Mugger and Thief, Manchester
Multi Story, Monkeywood, Various venues
The Trial, Hope Mill Theatre, Manchester
Fringe Performance
Joyce Branagh, Boomtown Gals, Various venues
Sam Grogan, Waiting Room, King's Arms, Salford
William J Holstead, The Trial, Hope Mill Theatre, Manchester
Leanne Martin, The Brink, King's Arms, Salford
Studio Production
Dirty Pakistani Lingerie, Lowry, Salford
Lemons Lemons Lemons Lemons Lemons, HOME, Manchester
The Solid Life Of Sugar Water, Royal Exchange, Manchester
Wish List, Royal Exchange, Manchester
Actor in a Studio Production
Alexander Gatehouse, Ventoux, Lowry
Joseph Quinn, Wish List, Royal Exchange
Rex Ryan, Pilgrim, Lowry
Actress in a Studio Production
Erin Doherty, Wish List, Royal Exchange Studio, Manchester
Sarah Emmott, Declaration, Lowry, Salford
Georgia Henshaw, Bird, Royal Exchange Studio, Manchester
Molly Vevers, Ross and Rachel, Lowry, Salford
New Play
A Pacifist's Guide to the War on Cancer, HOME, Manchester
Bird, Royal Exchange Studio, Manchester
The Emperor, HOME, Manchester
Wish List, Royal Exchange Studio, Manchester
Design
Endgame, HOME, Manchester. Set: Tom Piper. Lighting: Lizzie Powell
La Vie Parisienne, RNCM, Manchester. Set and costume design: Simone Romaniuk
Singin' In The Rain, Octagon Theatre, Bolton. Design: Ciaran Bagnall
The Pitmen Painters, Coliseum, Oldham. Design: Foxton
Ensemble
946: The Amazing Story of Adolphus Tips, HOME
Singin' In The Rain, Octagon Theatre, Bolton
The Pitmen Painters, Coliseum, Oldham
The James Plays, Lowry, Salford
Special Entertainment
An Anatomie In Four Quarters, Lowry, Salford
Cirque du Soleil – Amaluna, Trafford Centre
Summer, Autumn, Winter, Spring – Old Granada Studios
The Peony Pavillion, Lowry, Salford
Youth panel award
NOTHING, The Royal Exchange Theatre Young Company
The Secret Garden, Octagon Youth Theatre
The Factory, The Royal Exchange Theatre Young Company
The Siege of Christmas, Contact Young Company with Swung Low
Special Achievement
Special Achievement
Philip Radcliffe, long-time member of the MTA Panel
Stage Door Foundation Award For Excellence
Take Back Theatre, Manchester-based theatre co-operative