National Theatre of Scotland at Edinburgh Fringe
Published: 21 June 2012
Reporter: David Chadderton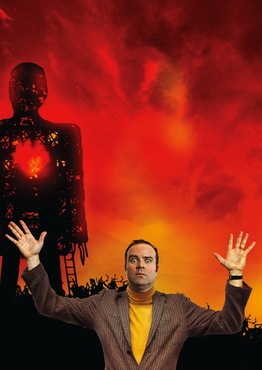 The National Theatre of Scotland will present two productions at the newly-refurbished Assembly Rooms on George Street as part of the Edinburgh Fringe.
Based on the screenplay of the famous film The Wicker Man written by Anthony Shaffer, Greg Hemphill's and Donald McLeary's Appointment with The Wicker Man is about an amateur theatre company on a remote Scottish island rehearsing its stage version of the film but the leading man has gone missing under mysterious circumstances.
After a Scottish tour earlier this year, the original cast of Sean Biggerstaff, Jimmy Chisholm, Greg Hemphill, Johnny McKnight, Sally Reid, Paul Riley and Rosalind Sydney will return to the production under the direction of Vicky Featherstone.
Molly Taylor's one-woman show Love Letters to the Public Transport System debuted as a work in progress last year and now returns to this year's Fringe.
NTS is also supporting Gary McNair's Born to Run about extraordinary journeys the body and brain can go on when they are tested beyond the point of exhaustion, which runs at the Traverse from 21 to 26 August. It was originally produced for a Play, a Pie and a Pint at Òran Mór.
Appointment with The Wicker Man will be in the Ballroom at the Assembly Rooms from 1 to 26 August, and Love Lettters to the Public Transport System will be in Studio One at the Assembly Rooms from 3 to 26 August.