National Theatre season April to September 2012
Published: 29 March 2012
Reporter: David Chadderton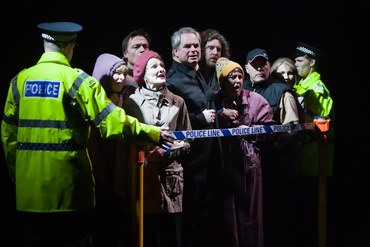 The National Theatre has announced its programme of productions for April to September 2012.
The Last of the Haussmans is the first stage play by TV writer Stephen Beresford about an ageing high society dropout, played by Julie Walters, in her dilapidated Art Deco house on the Devon coast where she's visited, after having an operation, by her wayward offspring (Rory Kinnear and Helen McCrory), her sharp-eyed granddaughter, the local doctor (Matthew Marsh) and a troubled teenager who uses the crumbling swimming pool. Directed by Howard Davies, it openes in the Lyttleton Theatre on 12 June.
Nicholas Hytner will direct Simon Russell Beale in the title role of Shakespeare's Timon of Athens, which opens at the Olivier Theatre on 17 July as part of the World Shakespeare Festival. Also in the cast are Martin Chamberlain, Jason Cheater, Stavros Demetraki, Paul Dodds, Deborah Findlay, Ciaran McMenamin and Nick Sampson.
George Bernard Shaw's The Doctor's Dilemma will be directed by Nadia Fall with a cast including Tom Burke, Aden Gillett, Paul McLeary, Genevieve O'Reilly and Malcolm Sinclair, opening at the Lyttleton Theatre on 24 July.
Simon Stephens is adapting Mark Haddon's highly-acclaimed novel The Curious Incident of the Dog in the Night-Time for a production that will be directed by Marianne Elliott opening at the Cottesloe Theatre on 24 July with a cast including Matthew Barker, Niamh Cusack, Maggie Service, Nick Sidi, Una Stubbs, Luke Treadaway, Nicola Walker and Howard Ward.
Alecky Blythe and Adam Cork's music theatre piece London Road, which sold out a run in the Cottesloe last year, will return to the Olivier Theatre for a limited run from 28 July to 6 September with original cast members Clare Burt, Kate Fleetwood, Hal Fowler, Nick Holder, Claire Moore, Michael Shaeffer, Nicola Sloane, Paul Thornley and Duncan Wisbey.
Richard Bean brings another adaptation to the National, this time of Alexandre Dumas's The Count of Monte Cristo for a family show that opens at the Olivier Theatre on 17 November.
National Theatre Inside Out offers a festival programme between 1 June and 9 September that includes The Pop-up workshop on the terrace balcony with a range of free performances and activities for all ages including puppetry, prop making and stage combat; the annual Watch This Space Festival showcasing national and international outdoor oerformances including Barricade by NoFit State Circus and Polar from France's Cie Bilbasso; site-specific work from Made In China and Non Zero One; a specially-designed riverfront café bar The Propstore; in the foyer areas, an interactive pod linking four European cities and two exhibitions, The Making of War Horse and The Making of Timon.
From 20 to 25 June, the annual Connections festival of new plays for young performers will take place with ten new plays by leading playwrights, all of which will be published in an anthology by Methuen.
The cinema broadcast of Danny Boyle's production of Frankenstein, adapted by Nick Dear and starring Benedict Cumberbatch and Jonny Lee Miller, is to return to cinemas from June by popular request, and there will be live broadcasts of The Last of the Haussmans and Timon of Athens on 11 October and 1 November respectively.
The full season brochure can be downloaded from www.nationaltheatre.org.uk/season.