New Leicester plays remember Ugandan Asian exodus
Published: 18 July 2022
Reporter: Steve Orme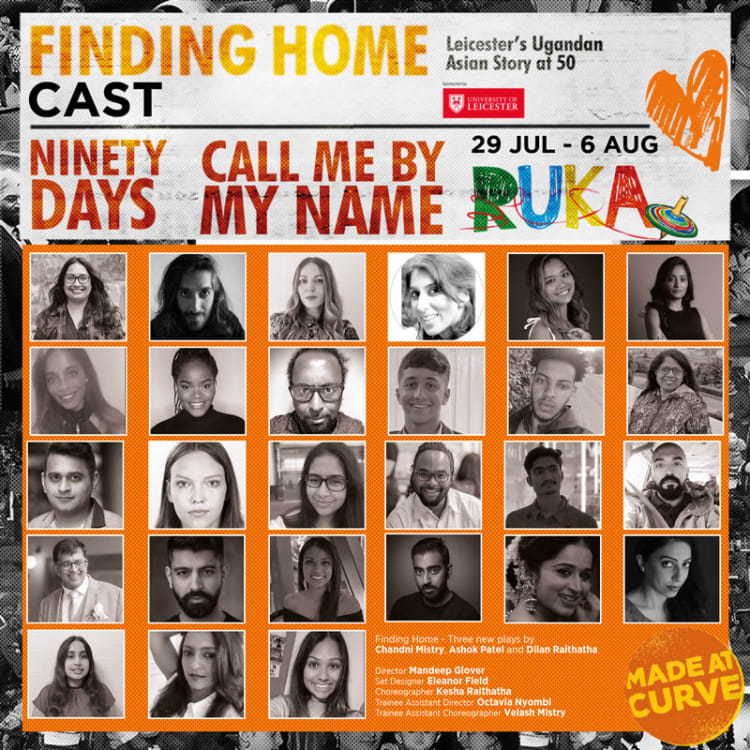 More than 40 community members will take to the Studio stage at Leicester's Curve to mark the 50th anniversary of the Ugandan Asian exodus.
Finding Home: Leicester's Ugandan Asian Story at 50 features three new plays by writers whose families arrived in the UK from Uganda.
Curve's chief executive Chris Stafford and artistic director Nikolai Foster said, "the story of the Ugandan South Asian exodus to Leicester is one that begins with trauma and upheaval for so many. Fifty years on, it's undoubtedly a story of resilience and triumph over adversity.
"We're proud to work with local actors and creatives to celebrate and reflect on the last 50 years and are thrilled to see these incredible stories unfold onstage and through events at Curve. These plays are a beautiful exploration of stories from the past 50 years and ultimately a celebration of this extraordinary community."
Chandni Mistry's Ruka, a play for families and children, will be performed on Saturday 30, Sunday 31 July, Friday 5 and Saturday 6 August.
Dilan Raithatha's Call Me by My Name and Ashok Patel's Ninety Days will be presented as a double bill, with performances from Friday 29 July until Saturday 6 August.
Call Me By My Name will feature Denzel Chakauya, Amit Chudasama, Sanjay Dattani, Andreea Ghervan, Hemanti Joshi, Rajen Joshi, Yusuf Karim, Manas Kotak, Reema Mistry, Velash Mistry, Urvi Modha, Brendon Muskwe, Billy Aurelia Ooi, Dhruv Pandya, Sheetal Pandaya, Bina Patel, Nicholas Alphonso Pereira, Chandni Premgi, Aashni Sawjani and Jishnu Soni.
The cast of Ninety Days will include Anish Chauhan, Sanjay Dattani, Chisenga Malama, Rav Moore, Nathan Obokoh, Sneya Rajani and Billie Venus.
All three plays are directed by Mandeep Glover who trained at Curve as resident assistant director. Curve resident creative Kesha Raithatha will be the choreographer. Set and costume design is by Eleanor Field. Trainee assistant director is Octavia Nyombi and trainee choreographer and dance captain is Velash Mistry.
On Thursday 4 August, 50 years to the day since Uganda's former President Idi Amin issued the order for the country's Indian and Pakistani community to leave, audiences can join a pre-show panel discussion at Curve. It will be hosted by ITV's Rajiv Popat and speakers will include Leicester's Mayor Sir Peter Soulsby, writer Chandni Mistry, family law barrister and co-founder of South Asian Heritage Month Jasvir Singh and Manzoor Moghal, a community leader who arrived in Leicester from Uganda in 1972.
Further information is available at the Curve web site.