New musical based on early life of Vera Brittain
Published: 24 November 2022
Reporter: Steve Orme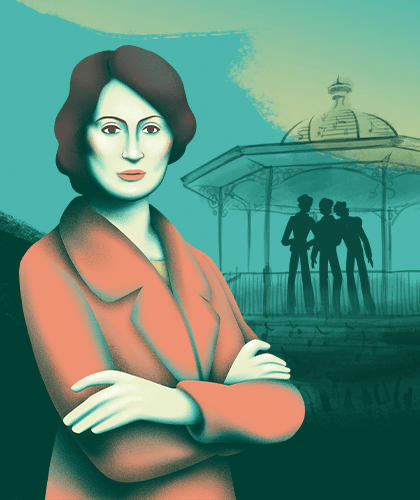 Buxton International Festival and Norwich Theatre are behind a new musical which is loosely based on the early life of Buxton's pioneering feminist and pacifist Vera Brittain.
The Land of Might-Have-Been is built around the songs of Ivor Novello and has book and lyrics by Michael Williams. Williams's opera Georgiana, about Georgiana Cavendish, the fifth Duchess of Devonshire, was produced at Buxton International Festival in 2019.
The new musical follows Vera Brittain and her soon-to-be fiancé Roland and Vera's brother Edward and their close friend Bobbie over a long, hot summer in Buxton in 1914. They all have their own ideas about their glittering futures but are faced with the prejudice and conventions of their time.
Vera is determined not to become a traditional married woman; she wants to attend Oxford University and live an independent life. Her brother Edward dreams of becoming a musician and composer but must hide his secret love for Bobbie from his family and society.
The war in Europe shatters all their hopes when Vera's friends are killed in battle and she embarks on a life-long campaign for peace and equality. The musical's epilogue sees Vera's daughter, Baroness (Shirley) Williams, reflecting on her mother's influential life.
Michael Williams said, "this is such an extraordinary story of love, hope, resilience and the rebellious spirit of young people. It throws new light on stories we thought we knew and also brings together the parallel but separate lives of Ivor Novello, the most successful British musical theatre composer of the early 20th century, and Vera Brittain, the author of the most powerful memoir of that time, Testament of Youth.
"Both young people were caught up in the tangles of forbidden love, war and terrible loss. It's fitting and very poignant to be telling Vera's story through Ivor's beautiful songs."
The Land of Might-Have-Been premières at Buxton International Festival from Friday 7 July until Friday 21 July and Norwich Theatre from Tuesday 25 until Sunday 30 July.
Related listings

The Land Of Might-Have-Been - Book and lyrics by Michael Williams, music by Ivor Novello (Buxton International Festival and Norwich Theatre)