New play hopes for sweet reaction in Derby
Published: 11 March 2012
Reporter: Steve Orme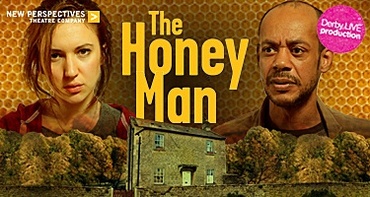 New Perspectives Theatre Company and Derby LIVE have commissioned a new play, The Honey Man, which starts a run at Derby's Guildhall Theatre this week before an eight-week rural tour.
Tyrone Huggins's play is about an unlikely relationship that develops one summer between Misty, a 15-year-old girl, and The Honey Man, an "ancient" Afro-Caribbean man who's taken up residency in a derelict cottage at the edge of an English village where she lives.
It's a tale of "growing up and growing old, of individual responsibility and shared history, of dying bees, healing herbs and (possibly) just a little magic".
Howard Saddler has withdrawn from playing the honey man so the part will go to Tyrone Huggins. He's performed in more than 70 productions in the UK including plays by David Hare at the National Theatre and with the RSC and Glasgow Citizens Theatre.
Esther Smith who plays Misty was in The Author by Tim Crouch at the Traverse 2010 and in Carrot, written by Ben Ockrent for Theatre 503 at Latitude 2011.
She appeared in Channel 4's Misfits with Robert Sheehan and the BBC series Material Girl with Dervla Kirwin.
Suzanne Gorman directs, with design by Juliet Shillingford, lighting by Jeremy Rowe and sound by Adam McCready.
The Honey Man was developed in partnership with Eastern Angles Theatre Company and Theatre Writing Partnership. It appeared as a work-in-progress at the ACE Decibel 2009 Festival.
It runs at Derby Guildhall from Friday (16 March) until Saturday, 31 March before touring until Sunday, 27 May.