New Vic and Claybody revive comic novel adaptation
Published: 28 April 2023
Reporter: Steve Orme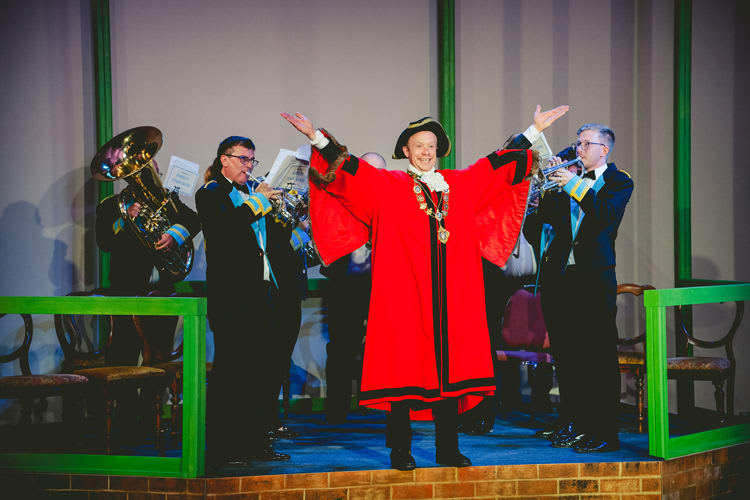 Newcastle-under-Lyme theatre the New Vic and Claybody Theatre are to revive Deborah McAndrew's adaptation of Arnold Bennett's comic novel set in Stoke-on-Trent, The Card.
The production originally ran at Fenton Town Hall, Stoke in June and July 2022.
New Vic artistic director Theresa Heskins said, "Stoke-on-Trent and North Staffordshire's cultural sector is growing fast and we're committed to supporting it through artist development, associate companies and other schemes. We've been able to support the growth of our ambitious local company Claybody, and it's a pleasure to welcome them back to the New Vic in their first year as an Arts Council national portfolio organisation."
Claybody's artistic director Conrad Nelson added, "the fabulous New Vic is without doubt one of the best stages in the country. I'm delighted to claim it as my local theatre; 2023 marks the 10th anniversary of Claybody Theatre and it's a privilege to be working in association with the New Vic to revisit this production.
"For a number of years, local people asked us if we would do an adaptation of Arnold's Bennett's The Card. This adaptation embraces the novel's own fast-paced, episodic narrative and in its journey to the stage we've tried to echo the energy and enthusiasm of this wonderful city."
Nelson directs the play in which Gareth Cassidy reprises his role as loveable rogue Denry Machin. He will be joined by Howard Chadwick as Mr Duncalf, Superintendent of Police, Mrs Machin, Cllr Barlow and ensemble; Isobel Chadwick in the ensemble; Jessica Dyas as Bursley councillor, Ruth Earp, Penkethman and ensemble; Christopher Glover as Mayor of Bursley 2022 and 1901, Harold Etches, Mrs Codleyn, Cregeen, Councillor Cotterill and ensemble; Jenny Murphy as sculptor, Nellie and ensemble; Molly Roberts as the Countess of Chell and ensemble; and Eddy Westbury as chair of the Denry Machin society, Jock, Charles Fearns, Callear, photographer and ensemble.
The company will again be joined by the Acceler8 brass band under the musical direction of Jef Sparkes.
The Card features washerwoman's son Denry Machin's refusing to let his humble beginnings holding him back from achieving a life he loves to live. Helped along by a little bit of luck, a lot of initiative and just a touch of chutzpah, he is soon enjoying fame and fortune, becoming the most celebrated "card" in Bennett's fictionalised Stoke-on-Trent, "the five towns".
The Card can be seen at the New Vic from Saturday 20 May until Saturday 10 June.
Related listings

The Card - Arnold Bennett, adapted by Deborah McAndrew (New Vic in association with Claybody Theatre)