New Vic to give experience of working in-the-round
Published: 18 March 2023
Reporter: Steve Orme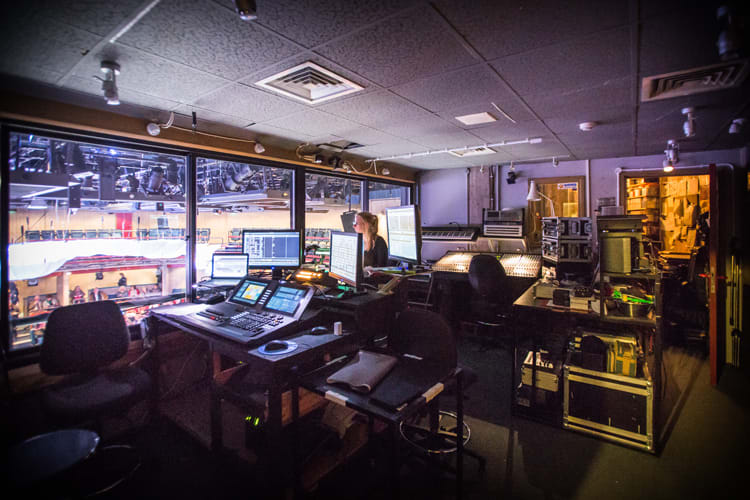 Emerging and entry-level theatre personnel from under-represented groups will have the opportunity to get experience of working in-the-round during a new, one-week course at Staffordshire's New Vic.
The Newcastle-under-Lyme theatre is running the course as part of its Kiln Network development programme in association with New Earth Theatre, "the foremost British East and South East Asian theatre company in the UK", and tiata fahodzi, "the UK's leading British African heritage contemporary theatre company".
The residential course called Kiln Sparks is led by the New Vic's associate director, Vicki Dela Amedume MBE. It is designed for entry-level sound and lighting technicians, company stage managers wishing to expand their knowledge of technical processes, emerging production managers who would like to expand their technical knowledge and emerging sound and lighting designers who have not yet worked in-the-round.
Eight participants will be selected to take part in Kiln Sparks, which will take place in the New Vic's 600-seat auditorium, rehearsal studio and craft and production workshops from Monday 26 June until Friday 1 July.
After the course—which includes introductions to sound, lighting, rigging, programming, operating and working with stage management—the New Vic will fund a three-month placement for two trainees to further their experience.
Amedume said, "the New Vic creates work for people of all backgrounds and we want access to the theatre industry to be available to everyone—including those working within it. Kiln Sparks has been designed in such a way to offer entry-level theatre backstage professionals an invaluable opportunity to gain hands-on experience at a busy producing theatre-in-the-round.
"We're excited to be working in collaboration with New Earth Theatre and tiata fahodzi to ensure we reach a diverse pool of applicants and we're looking forward to supporting people to realise their ambition of working in theatre."
Applications are open until Tuesday 2 May. Further information is available at the New Vic Theatre web site.