News from the North East
Published: 18 March 2012
Reporter: Peter Lathan
Additional Mysteries audition date
Due to heavy demand the Customs House in South Shields has added an extra audition workshop for its community production of The Mysteries. The additional workshop will be on Sunday 25th March at 2pm and anyone wishing to attend should contact the director Peter Lathan by email at [email protected].
What's on this week
The Susan Boyle musical I Dreamed a Dream opens at the Theatre Royal, Newcastle, on Friday and runs until 31st March.
The Royal Exchange Theatre, Manchester and Lyric Hammersmith Production of Vivienne Franzmann's Mogadishu comes to Northern Stage from Tuesday to Saturday in Stage 1, while in Stage 2 Zendeh's new production Found runs from Wednesday to Saturday.
At Live Theatre Open Clasp's Swags and Tails runs from Thursday to Saturday.
Theatre Hullabaloo's Angel comes to Arts Centre Washington on Thursday at 10.30am and 1.30pm.
Moon In The Sky Theatre presents a new play, Tipp The Taxi Driver, at the Customs House in South Shields from Tuesday to Saturday.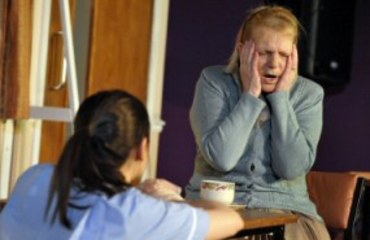 Northern Bites presents Hide by Carina Rodney at Alnwick Playhouse on Wednesday.
At The Maltings, Berwick, on Friday Northern Bites presents The Starship Now Arriving At..., the debut play by Stocksfield crime novelist and former Chief Superintendent of Northumbria Police Graham Pears.
On Tuesday at 6.30 Opera North presents Cautionary Tales! (aimed at 5 to 10 year olds) at the Queen's Hall, Hexham, followed on Thursday by the European Arts Company with a double bill of Pinter plays, The Dumb Waiter & The Lover.
In Stockton on Wednesday ARC presents its monthly ARCADE Scratch Night.
From Thursday to Saturday Tabs Productions brings Ayckbourn's Haunting Julia to the Middlesbrough Theatre.
The Agatha Christie Theatre Company brings Murder on the Nile to Darlington Civic Theatre from Monday to Saturday.
Chapter House Theatre Company's production of Sense and Sensibility comes to Darlington Arts Centre on Friday.