News from the North West
Published: 15 January 2012
Reporter: David Chadderton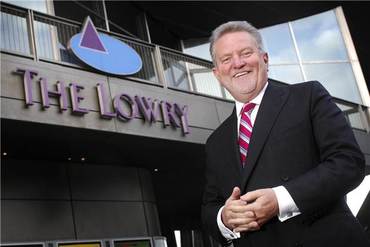 Knighthood for Lowry chairman
Rod Aldridge OBE, the chairman of The Lowry in Salford, has been awarded a knighthood in the New Year's Honours List in recognition of his work on behalf of young people.
The honour is in recognition of his work as founder and chairman of the educational charity The Aldridge Foundation that sponsors entrepreneurial schools with three established academies in Darwen, Brighton and Portslade and plans for further academies in Kensington and Portland.
Aldridge said of his award, "I am delighted by this news and deeply honoured by the recognition of my work for young people—something which is of great importance to me. I am particularly proud that this highlights the work of The Aldridge Foundation, which aims to improve educational performance through the development of an entrepreneurial approach to life by young people."
Re:Play Festival opens
The Library Theatre Company's Re:Play Festival, an annual revival of productions seen over the previous year in fringe or non-theatre venues in Manchester and Salford, will take place next week at The Lowry.
The Festival will include three plays that were first seen in last year's 24:7 Theatre Festival: Sherica by Ian Winterton, Future Shock by Richard Stockwell and The Rainbow Connection by Joanne Sherryden. Lucia Cox will revive her acclaimed one-woman play Blackbird, plus there will be performances in more unusual spaces with Indigestion by Derek Martin with music by Michael Betteridge in the Lowry Restaurant and The Crypt Project: New Depths from Happystory Theatre that takes its audience on a trip into the Lowry's underground chambers.
As well as the performances, there will be other new writing-related events including Pitch Party that provides an opportunity for pitching ideas to industry experts, networking event Creative Lunch, script-in-hand performances of new work in First Stage and an afternoon of "creative speed dating" in the world of Manchester fringe theatre in The Great Fringe Tea Party.
The Re:Play Festival runs from 17 to 28 January. For more information, see www.thelowry.com/replay.
Wonderful Town adds an extra week
The collaboration between The Lowry, the Royal Exchange Theatre and the Hallé on Leonard Bernstein's Wonderful Town has been extended by a week due to the demand for tickets.
The show, directed by Braham Murray and starring Connie Fisher, will now run from 31 March to 21 April at The Lowry.
Braff co-casting announced for Manchester première
Scrubs and Garden State star Zach Braff will star alongside Torchwood star Eve Myles and RSC actress Susannah Fielding when he makes his UK stage acting debut in Manchester next month.
The production is the UK première of Braff's own comedy All New People which will open at the Opera House in Manchester as part of Ambassador Theatre Group's "Manchester Gets It First" scheme before a brief visit to Glasgow and a West End run at the Duke of York's.

New Liverpool writers' forum at Lantern
The Lantern Theatre in Liverpool will host a new fornightly writers' forum from 8 February run by CJ Productions.
The group will offer mutual support to writers as well as a facilities for writing to be seen in rehearsed readings right up to full productions.
For more information, contact CJ Productions on 07916542967 or 07905572106 or the Lantern on 0151 703 0000 or e-mail [email protected].
NW productions
David Thacker will direct a revival of Bill Naughton's classic play of the 60s Alfie at the Octagon Theatre in Bolton starring David Ricardo-Pearce in the title role with former Coronation Street actress Vicky Binns as Annie, running from 19 January to 18 February.
Comedian and radio presenter Justin Moorhouse returns to the Royal Exchange Theatre stage alongside Victoria Elliott in Jim Cartwright's popular two-hander Two directed by Greg Hersov, which runs from 17 January to 25 February.
Drama students from University of Cumbria will perform We Happy Few by Imogen Stubbs and Closer by Patrick Marber at The Round in The Dukes, Lancaster between 18 and 28 January.
A children's TV favourite comes to Southport Theatre in Peppa Pig's Treasure Hunt on 18 and 19 January, moving on 21 and 22 January to the Grand in Blackpool.
Monty Python's Spamalot will return to the Liverpool Empire from 16 to 21 January.