Northern Stage at the Fringe
Published: 1 June 2012
Reporter: Peter Lathan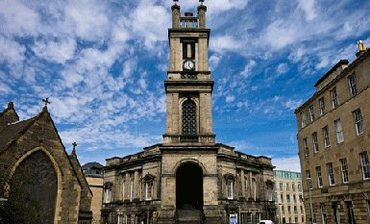 Newcastle's Northern Stage is to take over St Stephen's, the former Aurora Nova venue, at this year's Edinburgh Fringe to present "Made in the North of England", theatre from across the north.
Northern Stage Chief Executive and Artistic Director Erica Whyman said, "Northern Stage at St Stephen's will be a national and international platform for daring, thoughtful theatre makers. Northern Stage's location and collaborative spirit has enabled us to make it affordable for a great range of companies to be in Edinburgh, with the support of Arts Council England. I'm excited by all the shows in our bold programme; they share a curiosity about the world and a keen interest in audiences and involving them in the experience. We hope audiences will be prompted to question what "the North" means in the 21st century. There is such energy, wit and courage in theatre from this part of the UK, a long-admired capacity to tell a great story and a genuine spirit of internationalism and ingenuity. St Stephen's promises to be a really buzzy place this August."
Highlights of the programme include Oh, The Humanity, Northern Stage's revival now co-produced with Soho Theatre, directed by artistic director Erica Whyman, of five playlets by celebrated New York monologist Will Eno, starring Lucy Ellinson. The production will transfer to Soho Theatre in September.
Edinburgh Fringe First winners of the last two years, RashDash, present their new show The Ugly Sisters in a cabaret event with the collaborating funk-trio band Not Now Bernard. And Monkeywood Theatre, in development with The Lowry, adapt Andrea Ashworth's memoir Once In A House on Fire, a tale of domestic troubles and dreams of escape in 1970s Moss Side.
Other works include Dan Bye's performance lecture The Price of Everything, an exploration of how we ascribe value to things in an era of austerity and cuts; Unfolding Theatre's Best in the World which considers what it means to be the very best at what you do—prompted by darts player Phil 'The Power' Taylor—and wonders if you might just be the best audience in the world, and Third Angel & Mala Voadora, with Chris Thorpe, attempt to hold the whole world in their heads in What I Heard About the World.
Full details of Northern Stage at St Stephen's, including full listings, can be found at http://www.northernstage.co.uk/st-stephens.