Northern Stage Wins Edfringe Award
Published: 24 August 2013
Reporter: Peter Lathan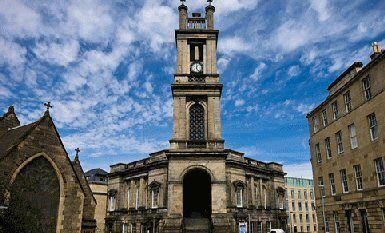 Northern Stage's production The Bloody Great Border Ballad Project at St Stephen's has won the Jack Tinker Spirit of the Fringe Award for 2013.
The Award is given to people, productions or performances recognised for outstanding talent, dedication and creativity and is made purely at the discretion of the judges from the entire list of Fringe performances. It commemorates Jack Tinker, a lifelong supporter of the Fringe and long-serving theatre critic of the Daily Mail.
Inspired by the debate about Scottish independence, The Bloody Great Border Ballad Project is part protest, part prophecy, part poetry, part party. Writers, performers, balladeers and special guests from North and South of the border create an epic new ballad written with and for the audience, every night.
In addition, Kieran Hurley, Chris Thorpe, Cora Bissett, Alex Kelly, Lucy Ellinson, Dan Bye and an array of special guests who changed every night were commissioned to write their own border ballads.
The Stage's Natasha Tripney described it as "one of the most joyous, inventive and warm experiences of the festival", whilst Fiona Mountford in the Evening Standard called it "delightfully quirky."