Octagon reopening delayed
Published: 16 April 2020
Reporter: David Chadderton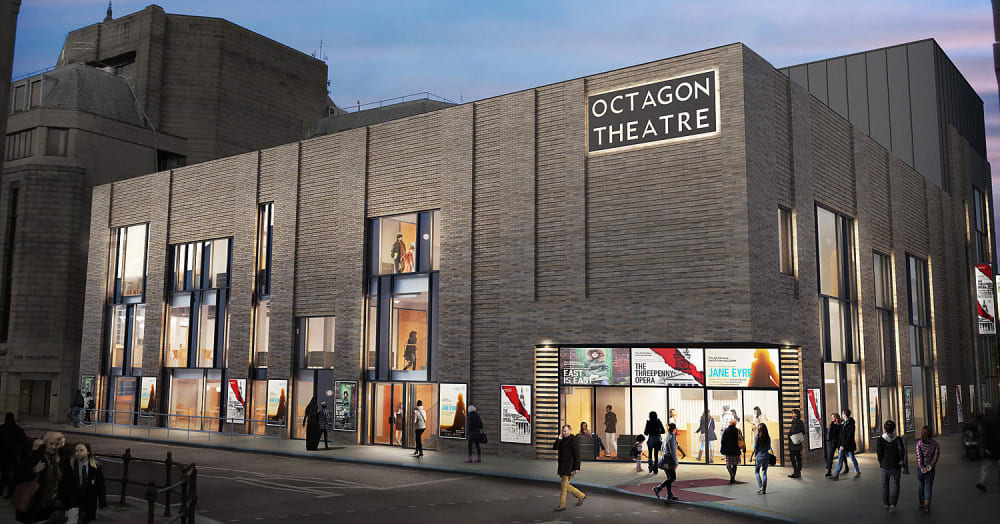 Bolton's Octagon Theatre's reopening following major development works has been put back from July to late autumn as, according to Chief Executive Roddy Gauld, "the building cannot be finished on the previously announced schedule" due to the COVID-19 pandemic.
The opening production of Richard Bean's One Man, Two Guvnors, scheduled to run in September 2020, will now be put back to 17 June to 17 July 2021, while the co-production with the New Vic Theatre of Marvellous has been cancelled. Other events and one-night shows originally due to take place before December will be rescheduled for next year if possible.
The opening production of the refurbished Octagon is now 'expected' to be A Christmas Carol, a musical adaptation of the Charles Dickens story with a book by Kate Ferguson and music and lyrics by Susannah Pearse. This will be directed by Artistic Director Lotte Wakeham and will run from 19 November to 16 January.
The productions of An Advenuture by Vinay Patel (28 January to 20 February) and The Book Thief, adapted from the novel by Markus Zusak with a book by Timothy Allen McDonald and Jodi Picoult and music and lyrics by Elyssa Samsel and Kate Anderson (12 March to 10 April), are expected to go ahead as scheduled.
Gauld said, "I want to reassure people—we may be later than originally planned, but we will be back. And once the lockdown is over, I hope people will look forward to a fantastic night out at the Octagon again!"
Wakeham added, "I believe the planned opening production of A Christmas Carol will be the perfect show to bring the community together and celebrate the message of the festive season, with generosity and goodwill to all. We are also busy working on our other opening celebrations. I'm also thrilled that we've been able to confirm new dates for One Man Two Guvnors, so audiences will still be able to enjoy this hilarious play in 2021.
"Meanwhile, at the Octagon, we are determined to still be able to entertain and engage with our audiences during this unprecedented period. We have recently launched Octagon Online, which has a range of activities to help bring creativity to our communities, and we're continuing to engage with our participants in a number of ways. There will be new content added regularly, including a new Bolton-wide writing competition that we will be launching very soon."
Tickets for the reopening season are on sale now.