Panto News: July 2013
Published: 28 July 2013
Reporter: Simon Sladen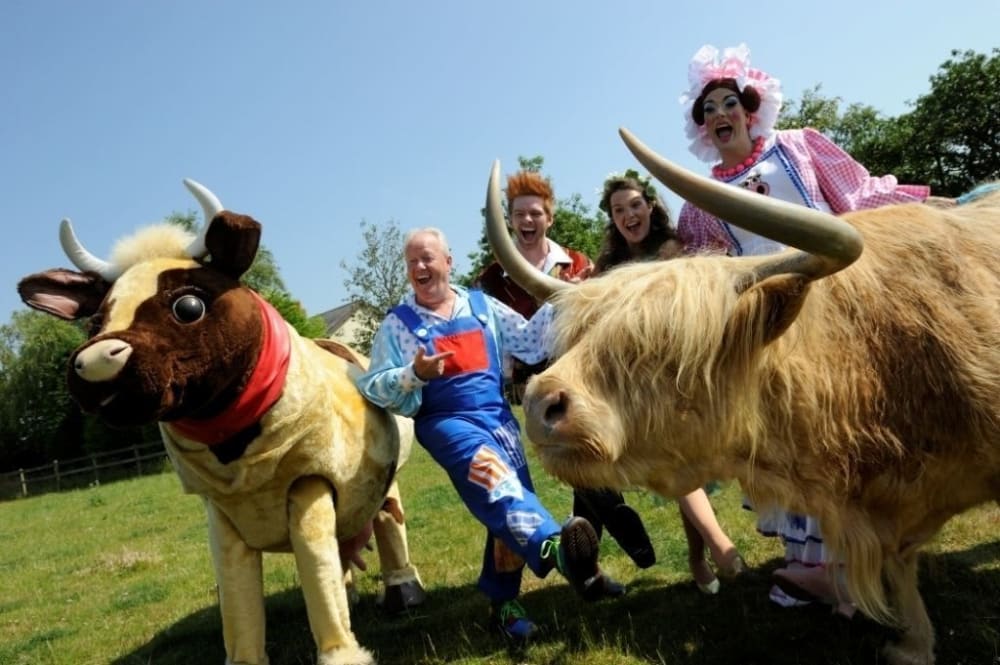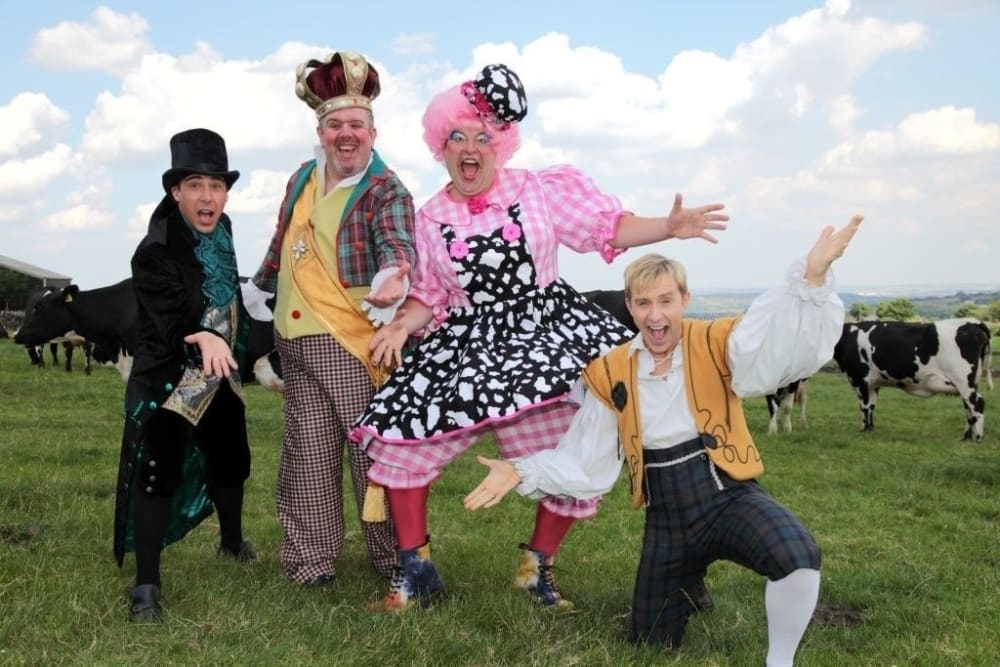 Summer is here and the wait is over: the stars of the UK's biggest pantomime productions have finally been announced.
Each and every year Pantoland waits with great excitement and anticipation as the casts of the Birmingham Hippodrome and New Wimbledon Theatre's productions are revealed. The two theatres offer the most spectacular pantomimes in the land, complete with million pound budgets and stars to match.
Whereas Qdos Pantomimes at Birmingham tend to cast popular UK entertainers, such as Brian Conley and Joe Pasquale, in recent years First Family Entertainment at Wimbledon have favoured international names such as Pamela Anderson, Dame Edna Everidge and Priscilla Presley.
The two theatres are based in two of the UK's largest cities, London and Birmingham and each have an audience capacity of over 1,600: 1,670 (New Wimbledon) and 1,935 (Birmingham Hippodrome). With First Family Entertainment producing Snow White last year at Wimbledon and Qdos presenting their version at the Birmingham Hippodrome this year, comparisons are bound to be made about the two companies' approach to the title.
Last year's Henchman, Jarred Christmas, was extremely popular with the Wimbledon audience and Jo Brand will no doubt prove equally as popular as the Slave as the Ring as she, rather than an international star, headlines this year's production at the theatre. However, although this is being announced as Brand's pantomime debut, and will be her Aladdin debut, it's actually only her pantomime stage debut as she starred in each and every one of Paul O'Grady's television pantomimes, appearing in a variety of roles including the Cowardly Lion, Tinkerbelle, Ugly Sister, the Blue Fairy and Fairy Scrumptious in Sleeping Beauty.
Brand will be joined by Flawless as the Chinese Policemen, stars of musical theatre Oliver Thornton and David Bedella as Aladdin and Abanazar, with Matthew Kelly marking a return to Dame as Widow Twankey in what for me personally, looks set to be one of the season's highlights. Kelly is a superb Dame and having returned to pantomime last year as Windsor's King in Jack and the Beanstalk, here's hoping his damsel in a dress will be seen in many a future pantomime season.
It's always exciting when a well known pantomime performer graduates into a new role and Birmingham have secured another season highlight in Gary Wilmot's first Dame. Wilmot joins a host of well known and well loved faces in the Hippodrome's Snow White, a title that hasn't been seen at the venue since Lily Savage's Wicked Queen production in 1999.
Stephanie Beacham takes on the role of Wicked Queen this time round, with ventriloquist Paul Zerdin and Sam returning to the Hippodrome after 2008's Robin Hood as Muddles. Having played Prince Charming in Canterbury and Nottingham, John Partridge continues his royal reign as Prince, with Matt Slack as Oddjob and Gok Wan in his pantomime debut as the Man in the Mirror.
With Wimbledon and Birmingham both having a star in their pantomime stage debut, time will tell who fares best, with both performers already equipped with some of the genre's necessary skill set, which should make their role a little easier. But with New Wimbledon still to announce how they will present the Genie, further details have been revealed about Birmingham's Dwarfs.
Since Snow White was announced last year, advertising material has proclaimed "the Magnificent Seven as you've never seen them before", making brains buzz with intrigue as to how they will be presented. As no 3D has been announced yet, that almost rules out that option, but a recent statement from Qdos's Louise Thompson reveals further clues to what is becoming one of the most closely-guarded secrets in Pantoland; "A cast of actors/musicians have already been cast to play the dwarfs in Snow White and the Seven Dwarfs at Birmingham Hippodrome"
The announcement has led to much debate in the press about the non-employment of dwarf actors, a debate which surfaces every year and completely ignores the Victorian pantomime tradition of using 'Big Heads' for many a pantomime character.
But 'dwarfgate' hasn't been the only pantomime storm this month as Doncaster's multi-million pound new venue CAST announced that it would be presenting a pantomime. Previously, producers Pantoni had made arrangements to stage Cinderella in a theatre arena at Doncaster Racecourse to account for the lack of pantomime in the city, but since CAST's announcement, Pantoni has abandoned its plans as two productions of Cinderella would be, in the words of producer Dave Lee, "professional suicide."
With one production of Cinderella shelved, news comes of another announced and this year the Shaw Theatre, Euston will produce the title with new production company Plummer Wood productions.
In recent years, soul diva Sheila Ferguson has come to own the role of Fairy Godmother, having first played it for the Cambridge Arts Theatre in 2011 after a string of pantomime appearances in roles such as Fairy Bowbells, Genie of the Lamp and Wicked Queen. This year marks Ferguson's Fairy Godmother hat-trick as she joins the cast of Norwich Theatre Royal's Cinderella, which will also see regular Dame Richard Gauntlett out of frocks as Cinderella's lovable friend Buttons.
Other celebrities to be announced this season include Russell Grant, who will play the Royal Astronomer in the Lighthouse Kettering's production of Snow White, and Sam Attwater, who joins Steve Hewlett and Ben Langley in the Central Theatre, Chatham's version of the tale. Continuing with the Snow White theme, Maureen Nolan will star as the Wicked Queen in Carlisle, having sadly lost her sister and fellow pantomime star Bernie Nolan to cancer earlier this month. Our thoughts go out to the Nolans' friends and families and also to Lynda Bellingham, who has withdrawn from her role as Fairy Bowbells at the White Rock Hastings to undergo treatment for cancer.
Christmas may seem a while off yet, but with the summer sun currently dazzling the country, many a Jack and the Beanstalk cast has braved the weather for a pantomime launch in full costume. Keith Chegwin, David Ashley, Jennifer Greenwood and Samuel Parker had fun down on Roves Farm, whilst fellow beanstalk climbers Damian Williams, Ian 'H' Watkins, Sarah Earnshaw, Andrew Fettes, Pete Dunwell and Madeleine Leslay soaked up the sun in Sheffield. Cast members of Ely's Jack and the Beanstalk also gathered for their photo shoot as preparations are made for the Maltings' first professional panto later this year.
But whilst many theatres start to proactively promote their pantomimes, others are hosting them as summer pantomimes to entertain audiences across the UK.
A Bit of a Dick Whittington has been playing at Glasgow's Oran Mor throughout July, with Alice in Barland enjoying a one-off performance at the Glasgow King's.
From 31 July to 28 August, The Wizard of Oz plays at Blackpool's North Pier, with Cinderella joining her 'Ferry' Godmother aboard the MV Bretagne St Malo to Portsmouth route. For those spending their holidays at home this summer, panto-inspired Cinders—The New Musical tours Haven Holiday Parks across the UK, whilst Beauty and the Beast and Snow White take the stage at Butlins.
Summer is also the time for university graduation ceremonies and earlier this month Swansea Grand's regular Dame Kevin Johns was awarded an Honorary Fellowship by Swansea Metropolitan University. Interestingly, only 14.29% of respondents to the current Panto Training Survey attended university, with 45.71% of pantomime performers having received no formal training. If you're a pantomime performer and would like to participate in the survey, you can do so via Survey Monkey. The results will be used in 'What's Behind Them? Training Pantoland...' to be presented at the Theatre and Performance Research Association annual conference in Glasgow in September.
One company confronted with the need to train its performers more than any other is Lythgoe Family Productions, who will present their third pantomime at the Pasadena Playhouse, California this year. Aladdin and his Winter Wish follows Cinderella and A Snow White Christmas at the venue in a ten year 'Panto at the Playhouse' deal. Auditions for Aladdin took place earlier this month, but although American performers will be cast, this year the company has commissioned Shropshire-based Albemarle Scenic Studios to create and export the scenery for the production.
Back in the UK, further casting is still being announced and there are now very few productions yet to announce at least one performer. Adam Stafford joins the cast of Aladdin as Widow Twankey for Qdos Pantomimes at the Bradford Alhambra, whilst fellow Dame Graham Hoadly plays Ugly Sister for First Family Entertainment in Bristol. Paul Tate plays Dame for Imagine Theatre at the Grand Pavilion, Porthcawl and Terence Frisch returns to play his third Dame at the Watford Palace in Robin Hood alongside Philip Cox's Sheriff of Nottingham.
Natalie Hayes Cowley, Matthew Hewitt & Julie Fox join the cast of Lincoln Drill Hall's Cinderella with Julie Peasgood announced as the Fairy in Grimsby Auditorium's Sleeping Beauty. Fellow female led narrative Snow White sees Adele Silva, Marcus Patrick, Rob McVeigh, Aiden J Harvey, Max Laird, Karen Anderson Laird and Denise Dove take to the stage at the York Opera House, with Debra Stephenson, Patrick O'Kane & Neil Smye in the roles of Jack, Fleshcreep and King at the Lighthouse, Poole.
Darren Day is set to play the Prince and Beast in Kings Lynn Corn Exchange's 2013 panto, whilst Oliver Mellor and Kara Kingsward Hughes headline the Civic Theatre, Rotherham's re-telling of the eighteenth century tale.
Elinor Lawless, Tom Swift, Keith J Higgins, Jake Cuddihy, Carla Nicholson-Fuller, Amanda Swift, Peter Basham and Adam Hoffman star in Beauty and the Beast at the Royal Victoria Hall, Tunbridge Wells, with the role of Pip set to be cast via a Search for a Star competition, details of which will be released over the coming months.
For a number of years now, Magic Beans Productions has given young performers the opportunity of their first professional pantomime contract and this year's Panto Factor to find Dunstable's Dick Whittington and Sevenoaks' Robin Hood and Maid Marian is now open. Full details of the audition process and how to apply can be found on the Sevenoaks Panto and Dunstable Panto web site under 'Panto Factor'.
Babes and Juvenile Ensemble auditions are still taking place each weekend at theatres up and down the country, giving youngsters their first taste of the stage. A full list of auditions can be found on the British Theatre Guide's Panto Auditions and Technical Auditions page. Good luck!