Panto News: July 2014
Published: 27 July 2014
Reporter: Simon Sladen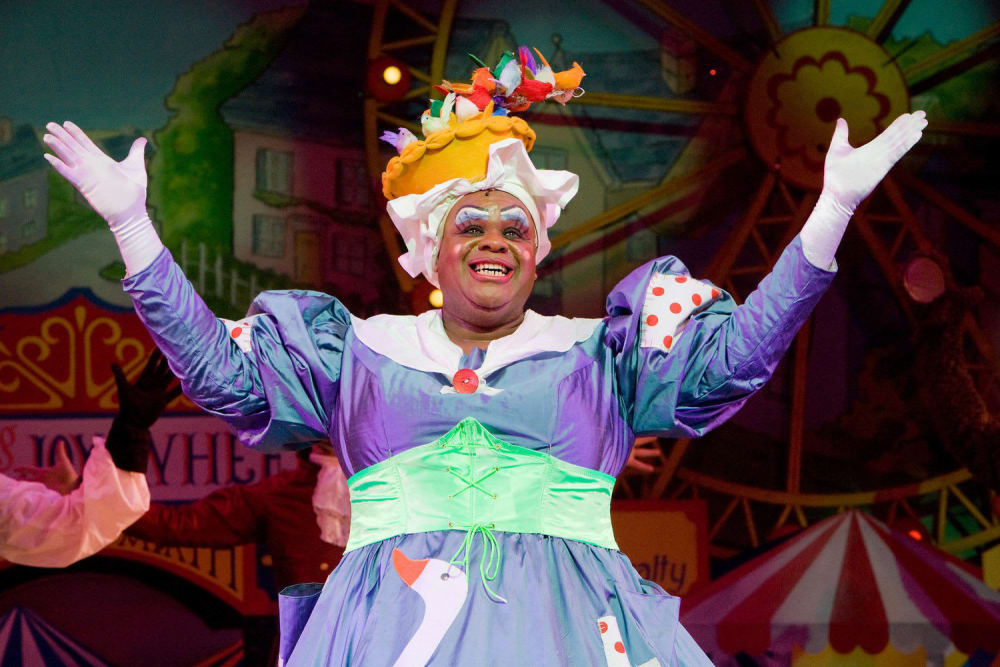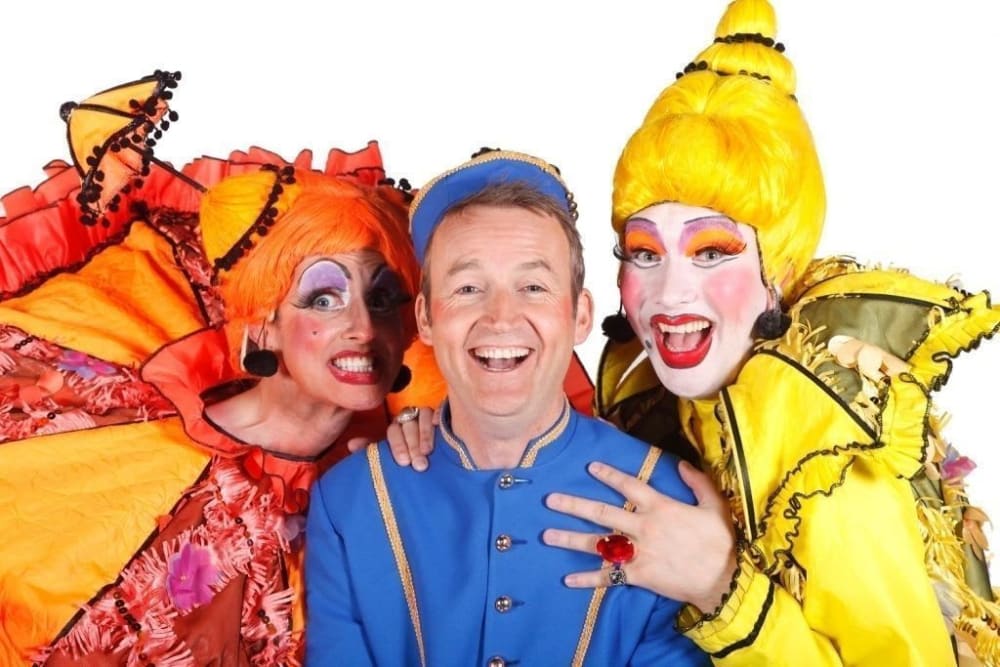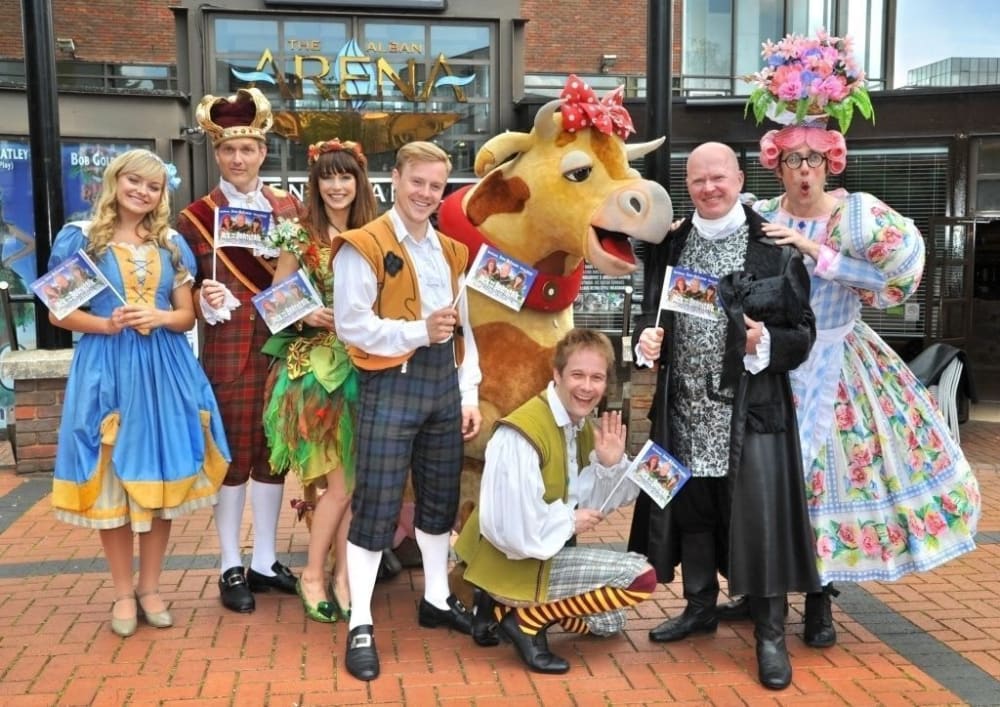 With the UK currently enjoying the summer sun, pantomime is the last thing on most people's minds, but up and down the country, with casting now almost complete, marketing campaigns are in full swing and launches, some of which are pictured here, are increasing in number by the day.
Earlier this month, I attended the launch of Haven Holidays' summer pantomime Aladdin, featuring many well-known panto faces including those of Dames Robert Pearce and David Rumelle. However, this summer they will not be playing Widow Twankey, but rather Dame Donna Kebab with the action relocated to Morocco and Abanazar replaced by the evil sorceress Queen Harem. Four casts will tour this one-hour re-telling of the tale around the UK, bringing a slightly new flavour to the traditional tale.
Pantomime's ability to survive is based on its willingness to evolve and producers are always looking for the next big thing. Danny La Rue popularised the glamorous Dame, Paul O'Grady as Lily Savage introduced the Drag-Villain to Pantoland and, more recently, we've seen glamorous male Immortals in the guise of Julian Clary.
Throughout history, the convention of cross-dressing has encompassed many guises and, although traditionalists express disdain at female Dames, they too are a vital part of pantomime's rich history.
Earlier this month one of the UK's most well-loved character actors passed away aged 91. Dora Bryan had an extensive career on television, film and stage, kicked off by a season in pantomime aged only twelve years old. An exquisite comic Fairy, Bryan also holds the honour of being the first female Dame of the London Palladium pantomimes, the second and last being Mollie Sugden.
Bryan also toured the country as Dora Doolittle, the Dame in Goldilocks and the Three Bears, with her comic excellence embraced by audience members wherever she played. Although female Dames are as rare as ever in contemporary pantomime, Bryan will forever be known as one of the greatest and someone who contributed immensely to British comedy.
With pantomime no longer a staple of West End fare, the Hackney Empire is often seen as London's leading pantomime venue and this year one of the UK's best Dames returns to the theatre after an absence of three years. Alongside Sharon D Clarke as Charity and Susie McKenna as Vanity, Clive Rowe will take to the stage as the title role in Mother Goose, seeing the three performers re-united, reprising their roles in Hackney's previous Mother Goose of 2008.
Hackney is one of few venues that includes Mother Goose in its cycle of pantomime titles. Last year, Puss in Boots heralded an addition to their usual set of shows and this year both Liverpool Everyman and the Customs House, South Shields follow suit, adding to their tally of titles as they present Red Riding Hood. Having 'retired' from pantomime two years ago, Ray Spencer will return to the South Shields venue, not as Tommy the Trumpeter, but as Dame alongside his daughter Natasha as Principal Girl.
Once a title rarely produced as a pantomime and now one of the UK's favourites, Peter Pan will see Greg McHugh and Alan Mitchell take to the stage of the King's Glasgow this Christmas, with Mark Benton battling Barney Harwood in Bournemouth.
In Carlisle, Chris Ellison, Darragh Mortell and Robbie Dee star in the Sands Centre's festive show, with Peter Pan also flying into Doncaster Race Course for the first time starring Sally Thomsett and Pee Wee Price.
In Wimbledon, Matthew Kelly and son Matthew Rixon return to play Ugly Sisters, roles they last performed together in Southampton in 2008, whilst the Maltings, Ely welcomes back its favourite Dame Daniel William Bell alongside Ben Hanson as Buttons.
A one time Ugly Sister herself in Brighton (2007), this year sees Kim Woodburn play Fairy Liquid in Snow White, Runcorn, with Tupele Dorgu, Olivia Birchenough, Chris Pizzey and Stephen David confirmed for the Floral Pavilion, New Brighton's production of the tale.
2014 will mark Josie Lawrence's pantomime debut as the Wicked Queen at the Yvonne Arnaud in Guildford and sees Kit Hesketh-Harvey, Jamie Brook and Peter Gordon return as Herman the Henchman, Muddles and Nurse Nora whilst Jonathan Ansell prepares to play Principal Boy for another season, this time at the Carriageworks, Leeds.
No stranger to pantomime, or the role of Aladdin, having played it twice before, Jon Lee heads to Worthing alongside Britain's Got Talent's Kieran and Sarah, whilst along the coast in Southsea, Aiden J Harvey, Jack Edwards and Christopher Marlowe join the cast of the Kings production, with Marlowe becoming the second Dame to play Empress of China in recent years after Chris Hayward in Newcastle (2012).
As Carabosse, Jennifer Ellison headlines the cast of this year's Sleeping Beauty at the Grand Theatre, Blackpool, a role played by Alex Scott Fairley in Edmonton marking his fourth year at the Millfield Arts Centre. In Shoreham, Tom Beard returns to present his second panto at the Ropetackle Arts Centre and continues his reign of comic fun in the role of Sir-Muddles-a-Lot alongside Carol Cleveland's Queen Maleficent.
Returning for his sixth year at the theatre, Mark Slowey plays the Dame in Camberley's Beauty and the Beast, a role Robert Rawles will also play in Margate alongside Ricky Groves. In Telford, Matt Evers plays Gerald le Huntsman whilst Basil Brush and Postman Pat join the cast in Windsor.
With the summer holidays now here, babes and junior ensembles take a short break until the end of August, when they re-start and run through until October. For more information on auditions and technical positions available for this season, check out our Panto Auditions and Technical Positions page.