Panto News: June 2012
Published: 24 June 2012
Reporter: Simon Sladen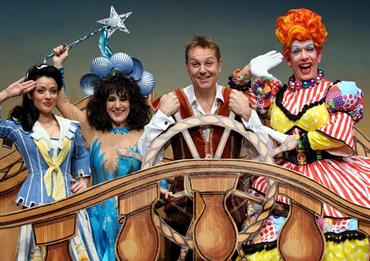 Just like those buxom Dames, June is busting out all over and it's time for another pantomime news update. Last month I commented on the number of theatres and production companies embracing Twitter and indeed technology will be at the forefront of this year's season with Qdos announcing Skype as the official sponsor of their 23 pantomimes. Skype enables people to connect across countries and continents through computers and the Birmingham Hippodrome have also been reaching out technology wise this month when they became the first theatre to live stream their pantomime launch photo shoot to the rest of the world.
This year's Hippodrome pantomime has been announced as Robinson Crusoe and the Caribbean Pirates and will star Brian Conley in the title role alongside Lesley Joseph as the Enchantress of the Ocean. In her third consecutive pantomime at the Hippodrome, Kathryn Rooney plays Principal Girl Polly with Andrew Ryan donning many a dress as Dame Mrs Crusoe. The production will be co-written by Conley and Qdos's Managing Director Michael Harrison and is set to feature a serpentine sea monster.
Giant creatures appear in many pantomime tales, but perhaps the biggest of them all is Giant Blunderbore in Jack and the Beanstalk. Having originally announced Sleeping Beauty as their title, and then Robin Hood, Glasgow's SECC have finally settled for magic beans and secured John Barrowman as Principal Boy Jack. Barrowman will be re-united with the Krankies at the venue for the third year in a row, thus repeating a quasi-residency not too dissimilar to his time at the Birmingham Hippodrome during panto seasons 2007 and 2008.
But whereas Glasgow's Giant Blunderbore will probably be animatronic in nature, Croydon's Fairfield Halls will boast the world's tallest actor as 7ft 7" tall Neil Fingleton takes on the role in Evolution Productions' Jack and the Beanstalk. The title has also been announced as Chesterfield Pomegranate's 2012 festive show to be produced by Paul Holman Associates, whilst over at the Woodville Halls, Gravesham, Mike James makes a triumphant return for his second year at the venue as Simple Simon.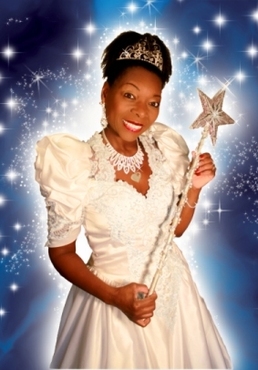 There may only be one tale of Jack and the Beanstalk, but there are many ways to tell it and in Liverpool Mark Chatterton and Sarah Nixon will present their rock 'n' roll version at the Playhouse. The production will be one of a five pantomimes in the area, with Sleeping Beauty starring Andrew Lancel (Coronation Street / The Bill), Jonathon Morris (Bread) and Fifi the Flower Tot a first for the region in that it will be staged in a 3,000 seater big top at the Echo Arena. Also producing a female led narrative this season are the Liverpool Empire, St. Helens Theatre Royal and the Epstein, who will each stage Cinderella. At the Epstein Theatre, Liverpool, '80s and '90s pop star Sonia takes on the role of Baroness Hardup, whilst Philip Olivier plays Buttons. Big Brother's Nikki Grahame will play the Fairy Godmother, with DJ Simon Greening as Dandini and Alison Crawford completing the cast as Cinderella herself. Remaining in Merseyside, the St. Helens Theatre Royal's cast will include Leanne Campbell, Richard De Vere, Si Foster, Marc Lawlor and Charlie Griffiths and Shameless's Tina Malone.
Cinderella is always the most popular of pantomime titles. In Maidstone Chloe Madeley (Dancing on Ice) will play Cinderella to Danny Young's (Coronation Street) Dandini, whilst in Catford Floella Benjamin plays Fairy Godmother to John Lyon's (Touch of Frost)Baron Hardup. In Redhill Andrea McLean will make Cinderella's wishes come true, whilst Shane Ritchie returns to the Cliffs Pavilion, Southend to play best friend Buttons. The Broadway Theatre, Barking have also announced Cinderella as their Christmas production, with the Corn Exchange Newbury announcing a cast comprising Joe Wicks, Matthew Grace and Richard Foster-King. In Sheffield, Jonathan Ansell, Ben Faulks, Sue Devaney, Kate Quinell, Michael Batchelor and Ian Smith join panto regular Damian Williams in the title and in Malvern Hi-de-Hi's Ruth Madoc will share the stage with Jamie Rickers and Emma Nowell.
Across the sea in Ireland, Limerick's University Concert Hall will stage its first ever fully professional panto, with Twink (Adèle King) as the Fairy Godmother alongside the Irish Voice's Richie Hayes. In Ayr, Scotland, The Gaiety too will be staging Cinderella as their first ever pantomime when the theatre re-opens this December. The pantomime will star Gary Lamont as Prince Charming, Leah MacRae as Fairy Godmother and Michael Courtney as Buttons, a role Liam Mellor will play in Swansea with Gemma James as his Cinderella, Chico as her Prince Charming and Mike Doyle and Kevin Johns as the Ugly Sisters. In Milton Keynes, Anna Williamson marks her tenth year of panto playing Cinderella alongside Kev Orkian's Buttons and Louie Spence's Dandini, as reported in March's Panto News.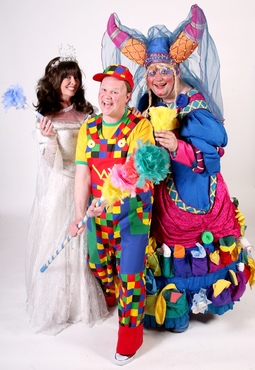 The rags to riches tale of Cinderella is, of course, echoed in the story of Dick Whittington, which will be staged at the Harpenden Halls this season and star Cerrie Burnell (CBeebies), Peter Purves and Richard Aucott for twelve performances only. In Loughborough, Charlie Guest returns to the Town Hall to play Idle Jack alongside Sion Lloyd and Anna Mitcham, whilst in Peterborough Ricky Groves (EastEnders), Andy Scott-Lee, Zach Vanderfelt and George Dee take to the stage in possibly the only pantomime to focus on a real person. Joining Biggins, Ben Nickless and Basil Brush's Alderman Foxwarren in Plymouth, Hilary O'Neil continues to spread her magic as Spirit of the Bells, whilst over at Woking, panto favourite Stephen Mulhern is set to appear as Idle Jack after the theatre announced a change in title to Dick Whittington from Sleeping Beauty earlier this month.
Playing Sleeping Beauty's Villain, the wicked Carabosse, Lorraine Chase is looking forward to a wicked season in Weston-Super-Mare, whilst Sue Holderness gets ready to summon boos galore at the Grove Theatre, Dunstable in Snow White. Fellow Wicked Queen Nichola McAuliffe will play the role in Bath, where, along with Laura Clements and Ben Harlow, she joins Chris Harris and Jon Monie for the theatre's first ever production of the title. Just as Harris and Monie have become resident panto performers in Bath, Alan McHugh and Jordan Young return to Aberdeen with Elaine C Smith in Snow White for what will be their fourth season together at His Majesty's. David Rumelle is set to play Dame in the title at the Deco Theatre, Northampton and over at the Bolton Albert Halls, Stu Francis returns for another year to play Muddles in Duggie Chapman's production at the venue.
Duggie Chapman is producing three pantomimes this year, one of which is the rarely staged title Red Riding Hood in Barrow in Furness. Another title infrequently seen these days is Mother Goose in which Helen McDermott and Paul Lavers will appear in at the Gorleston Pavilion, whilst Claire Waugh returns to Eden Court to play Jack Goose for Imagine Theatre. Imagine Theatre are producing ten pantomimes this season, including two Beauty and the Beasts, one of which will be at the Reading Hexagon and star Vicki Michelle, Nigel Nevinson, Justin Fletcher and Jolyon Dixon. The Shaw Theatre, London have also chosen the title as their 2012 panto, which will see Rodney Ward take to the stage in his second Dame for the venue alongside Alison Hammond's Fairy.
Most pantomime titles have a Fairy to wave their wand and spread panto magic, but in Aladdin the Immortals are replaced with spirits and genies. For the first time ever, Philadelphia's People's Light and Theatre will stage their very own version of Aladdin, whilst Dartford looks set to welcome the 3D Genie and Matt Slack's Wishee Washee. In St. Albans, Evolution Productions present their third pantomime at the venue with Sam Rabone giving his Widow Twankey in a cast comprising Shaun Williamson (Extras / EastEnders), Jemma Carlisle, Bob Golding, Nathaniel Morrison, Kelly Chinery and Mister Maker himself Phil Gallagher. Rabone will also be giving his Twankey alongside panto regular Nigel Harvey's Abanazar this summer at Haven Holiday parks.
Darren Johnson returns to Scunthorpe for his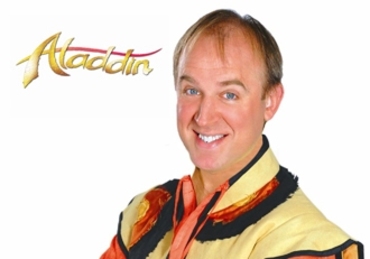 seventh year as Dame Annie Fanny in the title, whilst Abanazar extraordinaire Granville Saxton takes the stage at the Hall for Cornwall, Truro alongside Dean Nolan. Jon Clegg returns to Crawley for yet another season as Wishee Washee and in Norwich the role goes to long standing Comic André Vincent, who will be brother to Waterloo Road and Hollyoaks Lucy Dixon's Aladdin in the Theatre Royal's production. After a year of absence, Richmond Theatre have announced that Tim Vine will return for what will be his fourth pantomime at the theatre and the venue's first male led narrative in three years when he too plays Wishee Washee this year for First Family Entertainment.
But as Aladdin sets to soar through the skies on his magic carpet, Peter Pan looks set to fly into Sunderland, where UK Productions are bringing pantomime back to the Empire after an absence of three years with Tom Lister (Emmerdale) and Katy Ashworth (CBeebies). George Sampson will play the boy who never grew up in Derby, whilst Andrew Agnew takes on the role of Smee at the Churchill Theatre, Bromley. Ben Watson will also play Smee at the White Rock Hastings, with Alex Young as Liza and Paul Nicholas as Hook. Jack McMullen (Waterloo Road) is set to search for his shadow at the Floral Pavilion, New Brighton as he tries to evade capture by Gary Turner's Hook and Derek Moran's Smee and over in Aylesbury Holly Brewer will take to the skies as Pan, with Russell Grant announced as Roger the Cabin Boy; a role previously played by Louie Spence and TOWIE's Harry Derbidge. For Camberley's Pan, making a Wendy House will be child's play for Art Attack's Jassa Ahluwalia with Emmerdale's Freya Copeland sharing the stage as Mrs Darling. In Llandudno Barney Harwood is joined by Isobel Hathway as Tinkerbell and John Evans returns to the venue as Smee, demonstrating the popularity of the newest pantomime title which, if we consider companies First Family Entertainment, Qdos and UK Productions, equates to 18% of the season.
Further casting has been announced for North Devon's Queen's Theatre, where Jonathan Wadey and Richard Alan will play the Sheriff of Nottingham and Dame respectively, whilst Richard Elis, Lee Mengo, Keiron Self, Jamie Anderson have been announced for Newport's Robin Hood.
However, as we reach a state where most pantomimes have announced their headliners, it seems Hackney Empire's Olivier award nominated Dame Clive Rowe may miss yet another year of pantomime, having been announced in the Old Vic transfer of Kiss Me Kate, where he is currently playing the role of Gangster 2 in Chichester.
And as we near the end of another panto news update, we have some sad news to announce. Earlier this month on the 18th June, two pantomime stalwarts passed away. Brian Hibbard, who starred as the Riverfront, Newport's Villain between 2006 and 2009, died aged 65 and King Rat extraordinaire Victor Spinetti lost his battle against cancer aged 82. Our thoughts are with their friends and family.
Don't forget, if you want to appear in pantomime this season, then make sure you visit our Panto Auditions and Technical Positions 2012 page, which includes full listings of panto babes and juvenile ensemble auditions, as well as performing and back stage opportunities.
Photos: Kathryn Rooney, Lesley Joseph, Brian Conley and Andrew Ryan in 'Robinson Crusoe and the Caribbean Pirates' at the Birmingham Hippodrome; Floella Benjamin in 'Cinderella' at the Broadway Theatre, Catford; Vicki Michelle, Justin Fletcher and Jolyon Dixon in 'Beauty and the Beast' at the Hexagon, Reading (credit: Philip Tull); Tim Vine in 'Aladdin' at the Richmond Theatre.