Panto News: March 2012
Published: 21 March 2012
Reporter: Simon Sladen
We're now a third of the way through the year and the 2012 season is already taking shape in terms of casting and titles. 2012 will be an important year for Pantoland as it marks 200 years since the publication of the Brothers Grimm's Kinder- und Hausmärchen, which included the now beloved story of Aschenputtel or, as we know her today, Cinderella. Nearly all UK theatres have released information regarding their Christmas shows and Cinderella is proving as popular as ever.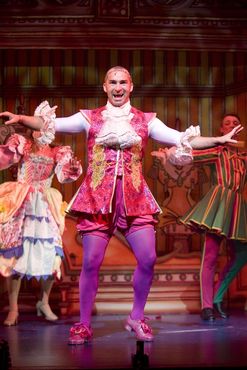 The rags to riches tale has been announced for the Central Theatre, Chatham and the Princes Theatre, Clacton-on-Sea, where last year's pantomime by Polka Dot Pantos saw the box office rise by £25,000. First Family Entertainment has announced that Louie Spence will reprise his Dandini in Milton Keynes, after a season in Manchester, whilst Joe Swash will play Dandini at the York Barbican. Produced by Blue Genie Entertainment and ASH Productions LIVE, Cinderella will be the city's third on offer alongside the Theatre Royal and Opera House's festive fare, and will feature Tracy Beaker aka Dani Harmer in the title role, with Hollyoaks's Joe Tracini as Buttons.
Steve Royle will play Buttons in his 10th pantomime at the Blackpool Grand, whilst over in Wales Swansea's Grand Theatre celebrates a glorious 100 years of pantomime. Their Cinderella boasts Chico as Prince Charming and in his 14th consecutive Swansea panto, regular Dame Kevin Johns joins Mike Doyle as the production's Ugly Sisters.
Fine Time Fontayne will return to the Oldham Coliseum as an Ugly Sister alongside Simeon Truby, whilst at the Bradford Alhambra Qdos has decided to change titles from Sleeping Beauty to Cinderella so that panto regular Billy Pearce can star alongside Lynda Bellingham as the production's Fairy Godmother fresh from her panto debut last year in Birmingham.
Glasgow will also have its very own Cinderella courtesy of First Family Entertainment at The King's, whilst the city's SECC presents Robin Hood. Over at the Pavilion The Wizard of Never Woz will star panto regular Dean Park as the Cowardly Lion and Michelle McManus in her pantomime debut as the Good Witch Glinda. The Wizard of Oz will also be presented at Worthing's Pavilion theatre this year, whilst the town's Connaught Theatre receives Sleeping Beauty courtesy of Paul Holman Associates.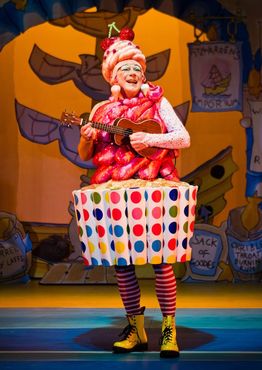 Some may argue that The Wizard of Oz is not really a pantomime, but then those traditionalist would also bemoan the popularity of Peter Pan as a pantomime title. Paul Nicholas is set to give his Captain Hook for Qdos at the White Rock, Hastings, whilst the title is also scheduled for the Towngate Theatre, Basildon, Camberley Theatre and Lincoln's Drill Hall.
Ship sailing and seafaring is also a feature of traditional pantomime title Dick Whittington, which will dock at the Customs House, South Shields, Oxford Playhouse, Cresset, Peterborough, Civic Theatre, Chelmsford and Hackney Empire in 2012. Martin Ballard returns to Loughborough Town Hall to play Dame Sarah the Cook for Imagine Theatre and with Dick Whittington's narrative centring on London - what better title to produce in a year in which both the Mayoral Election and Olympics will take place?
Last month I wondered aloud whether Ann Widdecombe would be joining Craig Revel Horwood again in Snow White after the duo's success at Dartford last season. It has since been revealed that the ex-Tory MP will be reprising her role and so the residents of High Wycombe can sample her Widdy in Waiting this season when she appears at the Wycombe Swan. This will be Craig Revel Horwood's fourth season as the Villainess and joining him in the Wicked Queen stakes will be Coronation Street's Tupele Dorgu at the Mansfield Palace Theatre where over 1,700 tickets have already been sold. Revel Horwood may have racked up four years in Pantoland, but that is nothing compared to Liam Dolan's eight year reign at the Palace Theatre, Kilmarnock where 2012 will see him make his Snow White debut.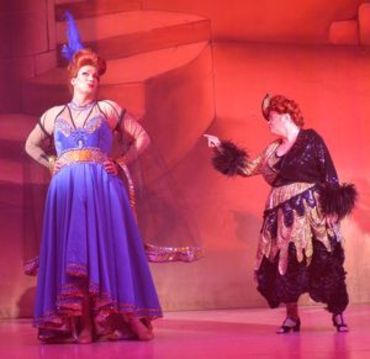 CBeebies's Chris Jarvis returns to the Bournemouth Pavilion for his seventh year at the venue in panto Sleeping Beauty, which was last seen there in 1980 and starred Arthur English, Billy Dainty and Jack Douglas. Jarvis will be joined by Su Pollard as Carabosse, a role Linda Lusardi will play in Darlington alongside husband Sam Kane as her henchman. The title has also been announced for Eastbourne's Devonshire Park Theatre.
Beauty and the Beast will run at the Spa, Bridlington from 18th December 2012 - 6th January 2013, whilst at Reading CBeebies's Justin Fletcher returns alongside Jolyon Dixon for their third year at the venue. Imagine Theatre will also present Beauty and the Beast at the Victoria Theatre, Halifax, with Neil Hurst appearing in his fourth pantomime for the venue.
The Newcastle Panto Company add to the tally of Robin Hoods this year at the Mill Volvo Tyne Theatre, with his Merry Men also set to make an appearance at the Riverfront Theatre, Newport.
Family favourites the Chuckle Brothers return to Hull in Jack and the Beanstalk, whilst Polka Dot Pantos produce the title at the South Holland Centre, Spalding. The title will also be presented at the Mayflower Theatre, Southampton by Qdos, heralding their return to the venue, whilst in Fleetwood, Duo Entertainment bring professional panto back to the Marine Hall complete with Dame Trott, Daisy and friends. Billingham Forum's Jack and the Beanstalk will feature Barnaby, whilst over at the Wyvern Theatre, Swindon a change of title has been announced from Jack and the Beanstalk starring Keith Chegwin to Aladdin, due to a lack of scenery availability as highlighted by Imagine Theatre last month.
Returning to the Olympia Theatre, Dublin for their third pantomime season are pop favourites Jedward in bespoke Jedward and the Magic Lamp, whilst fellow pop-star Shane Lynch from Boyzone joins Britain's Got Talent's Twist and Pulse and Emmerdale's Tony Haygarth at the Stag Theatre, Sevenoaks.
Aladdin will also be seen for the first time at London's O2, where a purpose-built 1900-seat theatre will host the Mayflower's 2010 production produced by Michael Rose Ltd and starring Lily Savage as Widow Twankey. No stranger to theatre arenas themselves, having produced two in such a venue whilst Canterbury's new Marlowe Theatre was being built, Evolution Productions will present their first pantomime at the Octagon Theatre, Yeovil in 2012 with panto regular and Covent Garden street entertainer Ben Langley starring as Aladdin. Evolution Productions's Paul Hendy told the British Theatre Guide:
"I've already started the casting process and it's interesting to note that in three of our seven theatres we are moving away from 'celebrity casting', something which I think could become more prevalent over the next couple of years."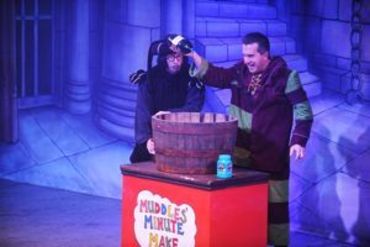 Evolution Productions will also be producing Aladdin at the Alban Arena, where in the past two years the company has increased panto box office takings from £180,000 to a staggering £415,000. St. Alban's Aladdin will see EastEnders and Extra's Shaun Williamson take to the stage as Abanazar alongside Phil Gallagher, Gemma Carlisle and Bob Golding who return to the venue after last year's successful Snow White.
Hendy reports that, "In total, our shows were seen by over a quarter of a million people, which seems to prove that pantomime is alive and well and dare I say it... recession proof! Canterbury for us, was a staggering success; it took £1.4 million at the Box Office and was seen by 85,000 people which we were thrilled about."
Cinderella may be, along with Aladdin, one of the most produced pantomime titles each season, but there are still a number of venues in which lesser known titles can still be seen. Last year saw 2011's only Puss in Boots produced in Abroath and this year Scotland will yet again play host to Pantoland's only Puss in Musselburgh, where Liam Rudden will write and direct his seventh pantomime for the Brunton Theatre.
Of course, with all of these productions being announced, producers need cast members and the following companies are now accepting CVs: Imagine Theatre, Evolution Productions, Paul Holman Associates and Blue Genie Entertainment/ASH Productions LIVE who are working in partnership this season. Information regarding audition notices will soon be able to be found on our Pantomime Auditions page set to go live next week, which will also provide full details about Pantomime Babes and Junior Ensemble casting sessions.
Photos: Louie Spence as Dandini in Cinderella at Manchester Opera House; Fine Time Fontayne as Saucy Sarah Suet in Dick Whittington at Oldham Coliseum, credit Andrew Billington; Craig Revel Horwood and Anne Widdecombe in Snow White at the Orchard Theatre, Dartford; Bob Golding and Phil Gallagher as Herman the Henchman and Muddles in Snow White at Alban Arena.