Panto News: March 2013
Published: 24 March 2013
Reporter: Simon Sladen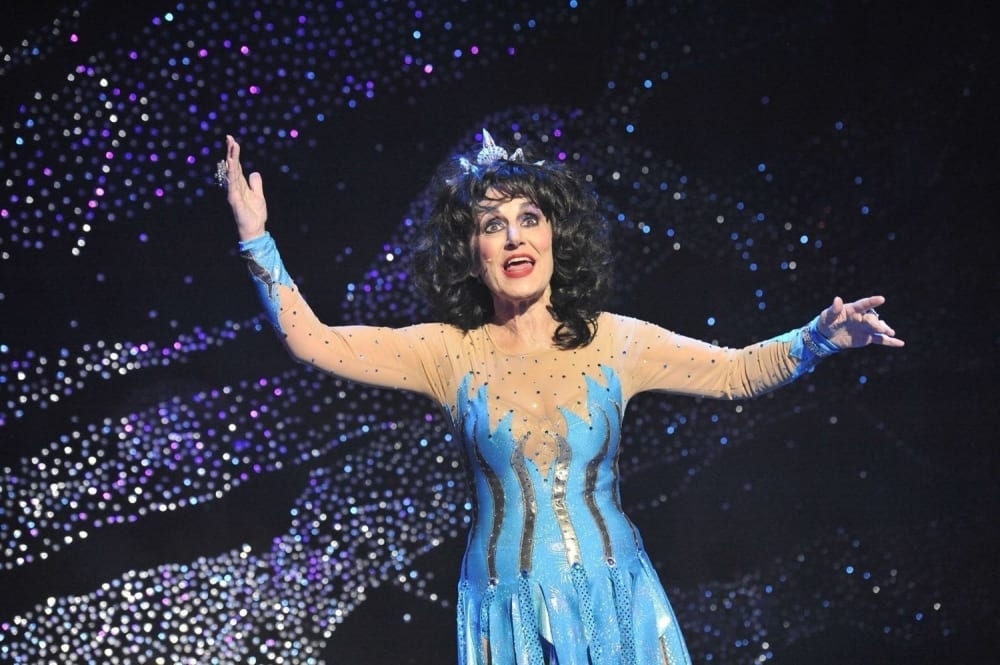 As snow falls across the country, it is hard to believe we are now almost in April, with Easter only a week away. And with Easter comes further opportunities to enjoy the fun of pantomime as theatres around the country host titles such as Rapunzel, Wizard of Oz, Treasure Island and Snow White for audiences to enjoy. These pantomimes employ the genre's conventions, but are freer to interpret the narratives, often episodic in nature and devoid of Dame, to provide an alternative, but comparative form of British pantomime. Information on 2013's Easter Panto season can be found here.
As we continue to ebb ever closer to November, more and more theatres are announcing their headliners. This month has seen a wide array of star names announced as Spring season brochures are shipped out to theatre patrons, with a page or two reserved for the all important pantomime.
Some pantomimes have built up immense followings, which means a scramble for the best tickets has become as traditional as attending the pantomime itself. When Aladdin and the Twankies went on sale at the York Theatre Royal on March 1st, prospective patrons queued outside from 9PM the night before the box office opened.
At York, it is Berwick Kaler and his long reign of Dame that attracts the loyal Theatre Royal audience and although unknown outside of York, to residents of the City and Pantoland alike, he is an institution. This form of casting, creating a quasi-resident pantomime team, ensures continuity and gives audiences not only what they like, but also what they know. As pantomime producer Robert Hopkins said to me once, "Familiarity breeds comfort, not content."
A familiar face returning to the Bournemouth Pavilion is Chris Jarvis, who will direct and appear as Wishee Washee in this year's Aladdin, as will Michael Otton in Broxbourne, whilst Kevin Cruise and Stephen Blakeley return to Windsor Theatre Royal for their fourth pantomime season together.
One of the country's best pantomime writers and directors is of course Susie McKenna, whose pantomimes at the Hackney Empire are some of the best in the country and balance that fine line of innovation and tradition, whilst truly celebrating the local community. This year, not only will she write and direct Puss in Boots at Hackney, but she is also in the writer and director's chair for a production of Aladdin in Leicester, where she grew up. De Montfort Hall's Aladdin is produced by Imagine Theatre and will be the first time pantomime has been seen at the venue in almost twenty years.
It is always difficult to provide audiences with an array of titles when there are not always enough sets and costumes available to do so, so when Peter Pan was changed to Aladdin earlier this month at the Glasgow Kings, patrons took to the web to bemoan the fact Aladdin has been seen at the venue four times in the last eleven years. That the cast will be entirely the same as last year's Cinderella suggests producers First Family Entertainment may be starting to build a resident team much like that at the Kings, Edinburgh, who will be producing Peter Pan this year starring regular trio Allan Stewart, Grant Stott and Andy Gray. That the Tron in Glasgow will also be producing Peter Panto and the incredible Stinkerbell could be another reason for the change away from Pan.
After a new title of Rapunzel in 2013, the Theatre Royal, Bury St Edmunds returns to more traditional fare with Aladdin this season, as do Eastbourne, Ickenham, Rhyl and Skegness. Aladdin is always one of the most popular pantomimes, with its wonderful opportunities for spectacle and oriental sparkle, although this year sees it lose its usual first / second place position, with productions accounting for 12% of the season so far.
A title rapidly losing its seasonal prominence is another tale with oriental leanings; that of Dick Whittington and his Cat. So far only 12 productions have been announced, with Stratford East and Ipswich's New Wolsey adding to the tally this month. Many producers tell me it is one of the more difficult titles to sell, even with a star name, and press officers working in local authority theatres inform me e-mails often get rejected by their sensitive servers.
That aside, some companies are still championing the title and fresh from their success in Woking last year, Ashleigh and Pudsey the dancing dog will be reunited with Eric Potts for Dick Whittington in Manchester, a change from the previously announced Aladdin.
Having already expanded their portfolio to include Weymouth Pavilion last year, 2013 will see Magic Beans Pantomimes add another venue to their empire as they too produce Dick Whittington at the Grove Theatre Dunstable, securing the pantomime contract at the venue for the next three years. 2013's production will star Leslie Grantham as Dirty Rat, Neighbours's Ryan Maloney as Idle Jack, Leon Craig as Dame Sarah the Cook, Jasette Amos as Fairy Bowbells and Lucy Reed as Alice Fitzwarren. Dick Whittington will be cast by an X-Factor style search for a star contest later in the year.
Other Dick Whittington castings to come through this month include the return of familiar faces John Challis, Gary Damer and Danny Posthill to the Stockport Plaza and Jimmy Burton-Isles to the Hazlitt Arts Centre Maidstone.
Pantomime as a theatrical form is impossible to define, with each theatre and production company presenting their own version of the genre. You can often tell what is important to a production by looking at its flyer, with UK Productions almost always featuring a Dame and Comic. Regular Blackpool Comic Steve Royle returns to the Grand Theatre to play Smee, as does Jon Monie in Bath. 2013 will be the first time the Theatre Royal Bath has seen Peter Pan as a pantomime, and with regular Dame Chris Harris playing Governess Gertie, it will be interesting to see how the most difficult of titles to pantomise works out.
The Ipswich Regent, Princes Theatre, Clacton upon Sea and Millennium Forum, Derry will also see Peter Pan flying in this year, the latter with usual Dame William Caulfield in the role of Hook. Having announced that they would introduce US stars to UK panto, First Family Entertainment seems to be wavering on their 2005 promise with Ray Quinn, Louis Emerick, Sean Mason, Leanne Campbell, Emma Stephens and Pete Price making up the cast of Liverpool Empire's Peter Pan, which in 2009 saw Henry Winkler as Hook. As of yet, no American stars have been announced by First Family Entertainment for panto season 2013, although we can almost be sure one will be seen at Wimbledon.
Starring Priscilla Presley in Wimbledon list year, Snow White continues to be a popular title, with the Empire Theatre, Consett and Swallows Centre, Sittingbourne announcing it as this year's title. But the fairest of them all so far, perhaps thanks to Hollywood blockbuster Jack the Giant Slayer, is Jack and the Beanstalk, accounting for 16% of productions.
This month the Maltings, Ely, Corn Exchange, Newbury and Lighthouse, Poole have all announced it as their 2013 panto, with the Lighthouse, Poole encouraging theatre lovers to submit their casting ideas. Terry Gleed and Simmons and Simmons return to the Playhouse, Weston-super-Mare for Paul Holman Associates, whilst Liam Dolan returns to the Palace Theatre, Kilmarnock to star in and direct what will be his ninth panto for the venue. Dani Harmer is set to play Princess in Reading's version of the tale, also produced by Imagine Theatre, whilst in Canterbury, Ben Roddy returns as Dame Trott after last year's wonderful performance in Sleeping Beauty. Fellow Dame Kenneth Alan Taylor is also set to return to the stage for the last time this season as 2013 marks thirty years of panto at the Playhouse under Alan Taylor's leadership.
Last year's Playhouse panto was Robin Hood and the Babes in the Wood, another title growing in popularity and one announced for Sevenoaks, where Andy Abraham of X Factor fame joins regular Dame / Comic duo of Robert Pearce and Ant Payne. The Lincoln Theatre Royal has also announced Robin Hood as this year's show, starring Cannon and Ball for the fifth time, who appeared in the title as it ended an era of pantomime at the London Palladium in 1988. This time they will play Little John and Friar Tuck, not the Robbers, and will be joined by Peter Amory as the Sheriff, Nicola Weeks as Robin Hood and Steve Barclay as the Dame.
Cinderella has been announced as this year's pantomime at the Hall for Cornwall, Truro, Sunderland Empire and Courtyard Arts, Hereford, with Stephen Richard and Duncan McCann playing Uglies in Bridlington. Paul Burnham will don a frock once more for First Family Entertainment in Bristol and Gareth Gates has been announced as St Albans's Prince Charming, a role Ruth Madoc once played at the Mansfield Palace, where she returns this year as Cinderella's Fairy Godmother. Cinderella will also be produced at Preston's Guild Hall starring Ted Robbins, the Harper Brothers and Jodie Hamblet.
With London awash with theatres, it's always exciting to welcome new ones to the scene, especially when they announce an annual pantomime. The Park Theatre (N4)'s Sleeping Beauty will be written by the venue's artistic director Jez Bond and associate artist Mark Cameron, but with only 200 seats, I am intrigued to see how the production will fare, not only in terms of production values and recouping its costs, but in vying for audience members in an already busy London panto scene. The Queen's Theatre Barnstable and the Brunton Theatre, Musselburgh will also present the tale of the 100 years slumber, with Jez Edwards appearing as Pickles in Leeds and Brad Fitt and Adam Moss returning as Dame and Comic in Shrewsbury.
Fellow Beauties, this time of Beauty and the Beast fame, will be seen at the Hertford Theatre, Pomegranate Chesterfield and Kings Lynn Corn Exchange in 2013, whilst down in Southampton, Lesley Joseph will be reunited with Brian Conley in the Mayflower's Robinson Crusoe and the Caribbean Pirates, last seen in Birmingham.
Snow White hasn't been seen at the Hippodrome since 1999, but it returns to Birmingham this year produced by industry leader Qdos Pantomimes with a cast still to be announced. The Sands Centre, Carlisle will also present the title, as will the Lichfield Garrick, who return to pantomime after seasons of family musicals. Snow White and the Magic Mirror will be set in Transylvania and feature characters such as Fraulein Strudel the Dame and Pugh, Pugh, Barney, McGrew, Cuthbert, Dibble and Grub the Dwarves. The fact that the title focuses on the Magic Mirror and not the Dwarves is an intriguing decision and will no doubt lead to a stronger narrative.
Accounting for 12% percentage of the season so far and tying with Aladdin, Snow White is also scheduled for the Marine Hall, Fleetwood with Laura Handley, the Palace Theatre, Newark starring Bernie Clifton and the Billingham Forum where Jimmy Cricket will headline. Ben Langley will star in and direct the production at Chatham for Evolution Productions.
Whilst each month I look ahead to the productions of the future, it is also a time to think back to the past and celebrate those no longer with us. Sadly, March saw the passing of pantomime regular Paul Critchlow who appeared in over 25 pantomimes as Villain and Ugly Sister and Are You Being Served?'s Frank Thornton, whose voice can still be heard in the BBC's Vintage Radio Panto CDs Dick Whittington and Sleeping Beauty. Our thoughts are with their friends and families.
Many production companies and theatres are still casting for the 2013 season and a full list of auditions and technical positions can be found on the regularly updated British Theatre Guide's Panto Auditions and Technical Positions 2013 page. If you're looking for a 'Spring Read', then be sure check out my recent review for Chris Abbott's Putting on Panto to pay for the Pinter about pantomime at Salisbury Playhouse between 1955 and 1985.
And finally, if you're yearning for something panto-esque and happen to be in South Shields over the next fortnight, be sure to visit the Customs House, where panto inspired thriller Remember Jim? plays from 5 – 6 April and stars Customs House panto regulars Neil Armstrong and Christina Dawson.