Panto News: May 2012
Published: 27 May 2012
Reporter: Simon Sladen
There is nothing like Dame. Full of cross-dressed capers, Dames often drive the pantomime with their bawdy humour and buxom figures and for many they constitute the most loved and most important of all pantomime characters. There are many different approaches to playing Dame, from Dan Leno to Danny la Rue, but regardless of Dame schooling, all would agree that Dave Lee deserves a place in the Great Dame Hall of Fame.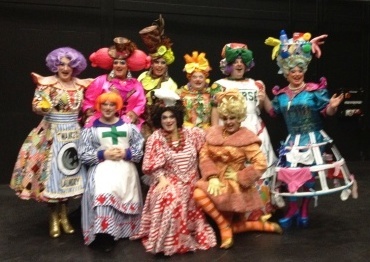 Having lost his battle with cancer earlier this year, a celebratory concert was held at the Marlowe Theatre, Canterbury earlier this month during which ten pantomime Dames took the stage in honour of Lee, who appeared as Dame sixteen times in the city. Daming is an art form and Lee played his Dame very much as a fat bloke in a dress. His warm sense of humour and big heart will be greatly missed by those who knew him. He may be gone, but he will never be forgotten and has no doubt inspired many a future Dame.
Pantomime is often a child's first experience of the theatre. The excitement of joining in and shouting back hooks many for life and this year a number of theatres are holding autism friendly/relaxed performances to give everyone the opportunity to enjoy the festive magic. Liverpool Playhouse will hold their relaxed performance on Tuesday 15th January, whilst Richmond have anno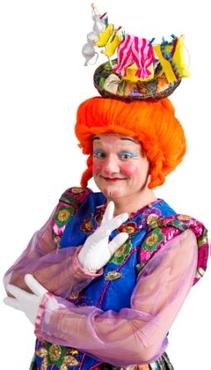 unced theirs as Monday 7th January. The Hall for Cornwall are also scheduling what they call a 'LOUD' performance for Thursday 3rd January but, as they explain, "despite its title, 'Loud', is actually a more sedate performance without loud bangs; sudden surprises; pyrotechnics or strobe lighting."
The joy of pantomime is that it offers something for everyone and it cannot be denied that for many a trip to the pantomime affords them the opportunity to mingle with the stars. Where else can you join in in conversation with your favourite TV Celeb, or sing-a-long with a Hollywood Star?
One of the most popular soaps is, of course, EastEnders and Pantoland this year will be peppered with ex and current residents of Walford. Lucy Benjamin plays the Wicked Queen in Basingstoke's Snow White, as does Gillian Wright in Horsham alongside Jane Deane as Jenny the Jester. Adam Woodyatt, aka Ian Beale, will buckle his swash as Hook in Hayes, whilst fellow EastEnder Larry Lamb vows to rid Neverland of Pan with Mike McClean as Smee in Derby.
Adding to EastEnders's tally of Villains, John Altman will appear as the wicked Abanazar in Stockport in a production that will also feature children's TV favourite Dave Benson Phillips as the Genie. Having played an honest copper in The Bill, Graham Cole is set to sink his teeth into Abanazar at Norwich Theatre Royal where pantomime regular Richard Gauntlett dons yet another frock as Widow Twankey alongside the more scantily clad professional wrestler Nick Aldis as the Genie of the Lamp. Coronation Street's Nigel Pivaro will give his Abanazar in Lowestoft, whilst fellow Corrie-cum-Benidorm star and Loose Woman Sherrie Hewson seeks to make children shriek as the wicked Lady Temple Savage in Wolverhampton's Jack and the Beanstalk with Keith Harris and Nigel Ellacott.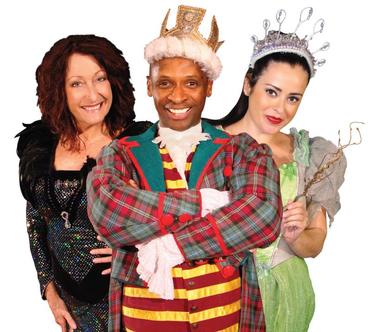 Emmerdale's Lisa Riley will appear in Snow White in Southsea with Aiden J Harvey, whilst Margi Clarke plays the Bad Fairy in Sleeping Beauty at the Rhyl Pavilion. More soap-panto villainy comes in the form of Home and Away's Lynne McGranger as Wicked Fairy Fleshcreep at the Weymouth Pavilion alongside X Factor's Andy Abraham as King Crumble, 90s popstar Anna Kumble as Fairy Fabulous, Danny Mills as Dame Trott and Paul Lawrence Thomas as Simple Simon.
Proving that not all TV stars are terrifyingly wicked in panto, 'Allo 'Allo's Sue Hodge is set to wave her wand as Skegness's Fairy Godmother, whilst Strictly Come Dancing's Camilla Dallerup will make Cinderella's wishes come true in Telford with Ricky K as best friend Buttons.
Star of children's favourite Hi-5, Chris Edgerley plays his dream role of Buttons in Maidstone whilst Any Dream Will Do finalist Keith Jack is set to scupper Buttons's dreams as the Playhouse Whitley Bay's Prince Charming. Joining Jack at the theatre will be Jennifer Metcalfe (Hollyoaks / Dancing on Ice) as Cinderella and panto Comic Steve Walls as Buttons. Coach Trip's Brendan Sheerin will star as Baron Hardup in Bradford whilst Basil Brush will play Alderman Foxwarren in Plymouth and Baron Basil in Belfast. How he'll manage to make that trip each day, no-one quite knows, but it'll most certainly be a case of zoom zoom, rather than boom boom!
Having appeared in Brookside, on X-Factor, Dancing on Ice and in a number of musicals over the past few years, Ray Quinn seems to tick all the necessary boxes for panto producers and can this year be seen at the Poole Lighthouse playing the title role in Aladdin alongside Tim Flavin as Abanazar and Don Maclean as Widow Twankey. Aladdin will also play at the Ormskirk Civic Hall, with Big Brother's Grace Adams-Short appearing as Aladdin and Hollyoaks's Laura Handley as Scheherazade.
A pantomime wouldn't be a pantomime without comedy and over the past month many of Pantoland's top Dames and Comics have been announced. Bernie Clifton will return to the Palace Theatre, Newark in Beauty and the Beast with Hollyoaks's John Pickard joining him as his comedy sidekick. May McFettridge returns to Belfast to play Fairy Godmother in Cinderella, 'her' 23rd panto at the Opera House, whilst Jez Edwards marks his fourth season at Leeds's Carriageworks in Jack and the Beanstalk. Brad Fitt makes a welcome return to Theatre Severn, Shrewsbury as Dame Trott, where Elizabeth Carter, Jo Parsons, Adam Moss, Andrew Fettes and Eric Smith are set to join him on stage in the tale of beanstalks and battling with Giants.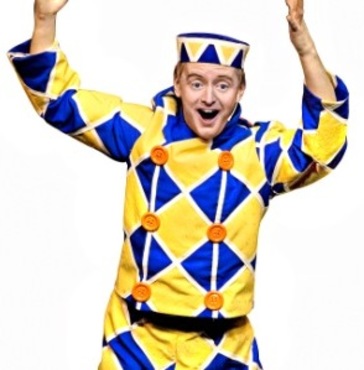 Edinburgh veterans Allan Stewart, Andy Gray and Grant Stott return 'home' to appear in Mother Goose at the King's, whilst fellow trio of performers Elaine C Smith, Alan McHugh and Jordan Young return to His Majesty's, Aberdeen for Snow White. This year, Scotland adds yet another pantomime to its already rich plethora on offer as Liam Rudden writes and directs Cinderella at the Alhambra Theatre, Dunfermline, which has already announced Scottish panto favourite Arron Usher as Buttons, Craig Chalmers as Prince Charming and Emma 'Soraya' Beard as Cinderella. CBBC's James McKenzie will also appear in what will be Rudden's seventh pantomime.
Sticking with the Cinderella theme, John Barr and Paul Burnham will play Ugly Sisters in Milton Keynes for First Family Entertainment, whist Paul Burling and Liam Mellor play Buttons in Chatham and Swansea respectively.
Terry Gleed, Simmons and Simmons and Same Difference will appear in Weston-super-Mare's Sleeping Beauty for Paul Holman Associates, Madame Galina and Phil Walker star in Mother Goose and the Magic Circus in Blackburn and star of Giffords Circus Tweedy the Clown joins the Everyman, Cheltenham's panto for the first time alongside returning favourite William Elliot in Dick Whittington.
In previous panto news updates I've noted how Robin Hood seems to be more popular than ever this season and since then further productions have been announced for the Georgian Theatre, Richmond, Gordon Craig Theatre, Stevenage and Queen's Theatre, Barnstaple where the theatre are staging their first full in-house pantomime. For their production, Newcastle Panto Ltd are offering youngsters the chance to design the Robin Hood programme front cover, whilst Nottingham Playhouse's production boasts free tickets should residents find one of 50 golden arrows hidden around Nottinghamshire over the next six months.
Elsewhere, The Maltings, Berwick-upon-Tweed and Cambridge Arts Theatre have announced their 2012 panto as Jack and the Beanstalk, with Lowther Pavilion and Solihull Arts Complex announcing Dick Whittington as their festive fare. Snow White is set to play at the Gaiety, Isle of Man and Epsom Playhouse, whilst Cinderella graces the stage in Torquay and Peter Pan flies into the Dorking Halls.
As ever, if you want to appear in pantomime this season, don't forget to keep checking our Panto Auditions and Technical Positions 2012 page, which includes full listings of panto babes and juvenile ensemble auditions, as well as performing and back stage opportunities.
Photos: Panto Dames (B) Antony Stuart-Hicks, Ian Smith, Michael Bachelor, Nick Wilton, Damian Williams, Sam Rabone (F) Ben Roddy, Brad Fitt, Martin Ramsdin at "Dave Lee - A Celebration"; Richard Gauntlett in Norwich Theatre Royal's "Aladdin"; Lynne McGranger, Andy Abraham and Anna Kumble in Weymouth Pavilion's "Jack and the Beanstalk"; Arron Usher in Alhambra Theatre, Dunfermline's "Cinderella".