Panto News: May 2014
Published: 31 May 2014
Reporter: Simon Sladen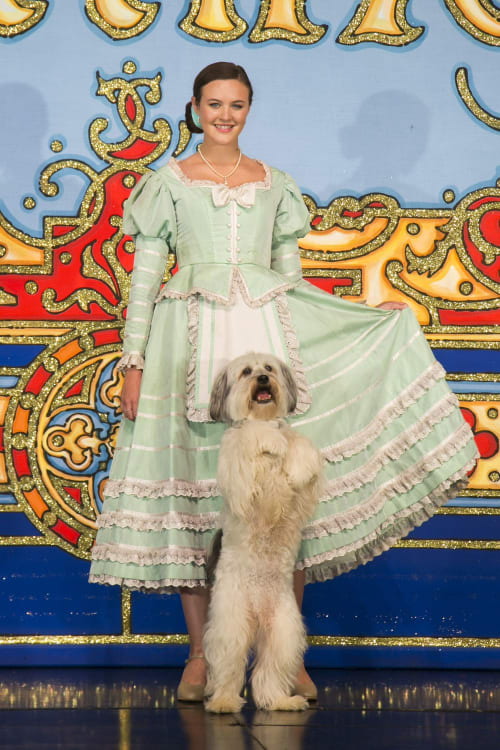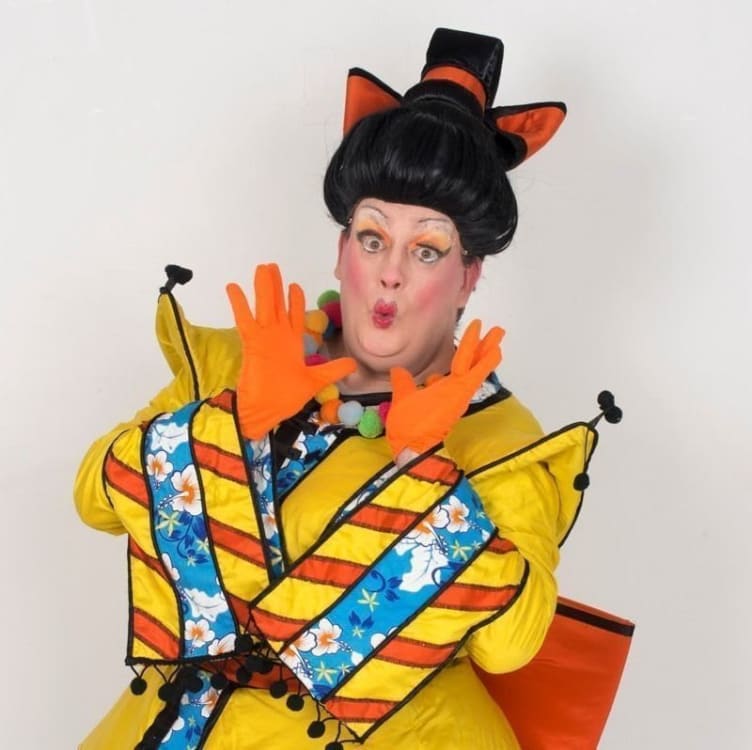 It is now fewer than six months until some of 2014's casts go into rehearsals ready for the Christmas season and May has been a bumper month for announcements, with Villains stealing the spotlight up and down the country.
In Stevenage, Shaun Williamson has been announced as Abanazar at the Gordon Craig Theatre, whilst Robert Powell prepares for sorcery at the Festival Theatre, Malvern. In Sunderland, Su Pollard is set to wear the crown of the Wicked Queen in the Empire's Snow White, a role Jerry Hall will also play in her pantomime debut at the Richmond Theatre.
Hilary O'Neil will flutter her fateful wings as Carabosse at the Hawth, Crawley, whilst in Bournemouth Mark Benton swaps his hand for a hook as Neverland's dastardly Captain in the Pavilion's Peter Pan.
Attempting to foil their plans and ensure Happy Endings prevail, a plethora of Benevolent Agents were also announced this month. Waving their wands as Fairy Godmothers, Maureen Nolan, TOWIE's Abi Clarke and Neighbours' Anne Charleston will do their best to get Cinderella to the ball in Ipswich, Sittingbourne and Redditch, whilst Louie Spence and Marcus Patrick add to the tally of male Slaves of the Rings in recent years in Hastings and Southsea.
Serving up plenty of laughs and custard pies, Steve Fortune is Halifax's damsel in a dress at the Victoria Theatre with Philip Meeks moving to Sunderland from Darlington to play the Nurse in Snow White. Mark Hudson returns to Rotherham to play Widow Twankey in Shone Productions' Aladdin whilst Kieran Buckeridge returns to Salisbury to write the music and play the title role in Mother Goose.
Kilmarnock's favourite duo Craig Glover and Liam Dolan return as mother and son in the Palace Theatre's Aladdin, whilst in Catford and Sunderland Richard Blackwood and Andrew Agnew both get set to play Comic. Twist and Pulse reprise their hip-hopper coppers last seen in Windsor at the Central Theatre, Chatham, where Chris Jordan is set to present his first pantomime for the venue.
At the Mansfield Palace, Amy Thompson stars as the Princess in Sleeping Beauty, with Ian 'H' Watkins replacing Gary Lucy as Maidstone's Prince in Snow White. Fareham's Ferneham Hall will see Stefan Booth in the regal role with Blue's Antony Costa and Hi-5's Luke Roberts starring as Aladdin in Southsea and Rickmansworth.
The role of Buxton Opera House's Jack will be played by CBeebies' Joseph Elliot and in Cardiff, no-stranger to the world of pantomime, rugby's Gareth Thomas teams up with Lee Mead to play Dandini.
As well as this season's headliners, a number of full casts have also been revealed, including the remainder of Cardiff's company which sees husband and wife team Linda Lusardi and Sam Kane appear as Fairy Godmother and Ugly Sister alongside Mike Doyle (Ugly Sister) and Andy Jones (Buttons).
Lusardi and Kane's daughter will also be appearing in pantomime this year as Alice in Swindon's Dick Whittington,whilst brother and sister pop-duo Same Difference aka Sean and Sarah Smith play Prince Charming and the Fairy Godmother in Cinderella at the Middleton Arena.
In Bristol, Britain's Got Talent's Ashleigh and Pudsey, Ben Faulks, Eric Potts and Andy Ford star in Dick Whittington, whilst in Southport Nick Newbould, Kay Purcell, Ken Morley and Emma Nowall appear in Sleeping Beauty for Imagine Theatre, who are also producing Cinderella at the Hexagon, Reading with Jon Clegg, Hairy Biker Dave Myers and Liza Goddard.
In Melton Mowbray, Melissa Suffield and Lucinda Rhodes star in Snow White for Trio Entertainment, whilst in Hull Sherrie Hewson, Nigel Ellacott and Keith Harris are reunited in Aladdin, having performed Jack and the Beanstalk together in Wolverhampton in 2012.
In Barnstaple, Mark Little and Kevin James play Fleshcreep and Silly Simon in Jack and the Beanstalk whilst in Bromley Coronation Street's Marc Baylis headlines a cast including Sonia, Bobby Crush and Jamie Rickers.
Although most theatres have announced their titles for the Christmas season, some are only just being revealed, with details emerging about new creative teams at a variety of venues.
2014 will see the Mercury Theatre, Colchester produce Cinderella by Fine Time Fontayne based on a version by Joel Horwood and Morgan Lloyd Malcolm. Horwood and Lloyd Malcolm's Cinderella was initially written for the Lyric Hammersmith in 2012 and the new version with additional material by Oldham Coliseum's Fine Time Fontayne was last produced in 2013 as CAST Doncaster's inaugural pantomime.
It is interesting to see that this re-telling of the tale featuring Buttons as a fairy who must help get Cinderella to the ball in order to earn his wings is to get yet another outing as theatre managements embrace new versions of the tale that retain the essence of pantomime, yet provide something fresh and exciting for audiences old and new.
Cinderella is also the choice for the Theatre Royal, Bury St Edmunds, where Peter Duncan, Oxford's resident panto writer, will pen this year's show ending a decade of pantomimes from Colin Blumenau who is writing Dick Whittington for the Riverfront Theatre, Newport.
One of the joys of the genre is the myriad ways that not only its conventions, but also its stories can be interpreted. This year, CAST Doncaster will produce Aladdin and it will be interesting to see how their telling of the tale differs and whether Horwood and Lloyd Malcolm will return.
The writing duo's previous home of the Lyric Hammersmith, who employed a new creative team for last year's Jack and the Beanstalk, has yet to announce who will write the show, but we do know that it will be Dick Whittington, most recently seen in London at the Theatre Royal Stratford East featuring Miranda Menzies as the Alien Queen.
Every pantomime writer has his own particular style, with some of the UK's most inventive, such as Alan McHugh and Johnny McKnight, hailing from Scotland. This year, McKnight is writing the Tron, Glasgow's Miracle On 34 Parnie Street and Aladdin at Macrobert Arts Centre, Stirling, both with unique new takes on the genre, its narratives, 'traditional' stock characters and conventions.
A flavour of this is provided in McKnight's synopsis for Aladdin:
Widow Marge O' Reen Twankey has been online dating for 2 years and is yet to get a wink. Baby Wishy Washee is still struggling to pass the intelligence test to get on reality TV show Peking Shores. Oldest daughter, Aladdin, has just had her hair cut and keeps on getting mistaken for a boy—will local royalty and heart-throb Prince Jasper ever notice her now? And if that wasn't enough Lady Lilith D'ijin has arrived in town claiming herself the long-lost relative of The Twankey family and all she wants for Christmas is some rusty old lamp…
McKnight's playful approach to the genre is refreshing and although not all panto passionistas would approve, his productions demonstrate the wealth of practices alive in the industry today.
As we look forward to another month of pantomime, it is also time to reflect on some of pantomime's finest practitioners who are sadly no longer with us.
Earlier this month, one of pantomime's most respected dames, directors and writers Chris Harris passed away. A man who inspired many performers, he will be greatly missed. This month also saw the Dave Lee memorial bench revealed in Canterbury honoring the much loved Dame, who achieved over 1,000 pantomime performances at the Marlowe. A full report on the ceremony can be found via Kent Online.
While most casting for principal roles has now closed for the season ahead, there are still many opportunities available for dancers, young performers and backstage crews. Full details can be found on our Auditions and Technicial Positions page.