Parkinson's performers to tour new play
Published: 30 March 2022
Reporter: Steve Orme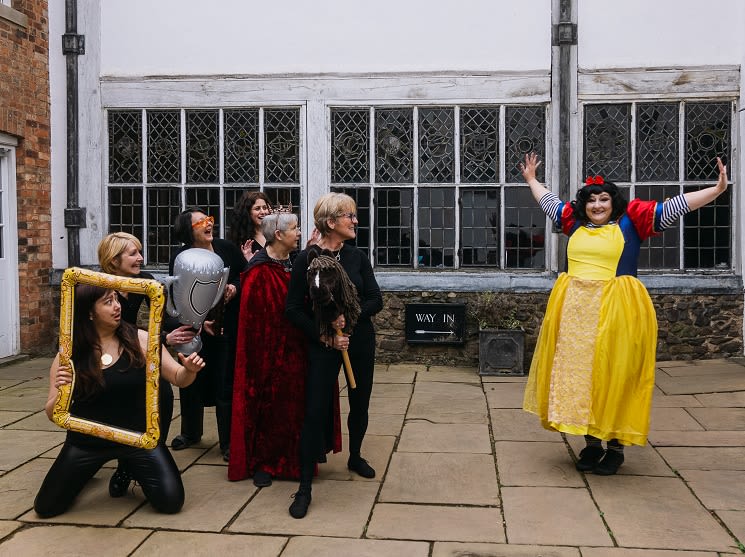 An East Midlands theatre group made up of people living with and supporting others with Parkinson's is to start its first tour, culminating in a performance at the Edinburgh Fringe festival.
Parky Players will perform in Nottingham, Derby and Birmingham before heading to Edinburgh.
The theatre group was formed by Janet Barnes from Beeston Rylands who was diagnosed with Parkinson's in 2019 aged 47, her friend Sheila North and a small group of people who got together on Zoom during lockdown, writing and recording an online pantomime.
Developed with Midlands community interest company Community Vibe, National Lottery funding from Arts Council England and support from Derby Museums, they recreated the piece for the stage.
The new play Shake It Up is a "no-holds-barred comedy about modern life living with Parkinson's". The story follows a community group turning up for their weekly meeting and being surprised to find themselves in the fantasy world of "Snow White and the Seven Symptoms".
Janet Barnes said, "being given the opportunity by Arts Council England to form Parky Players and create Shake It Up has developed opportunities well beyond those envisaged at the beginning of this project.
"As a group of complete novice actors, we've gained new skills, self-esteem and pride in ourselves and our outcomes. We've created an original and exciting piece of theatre that helps raise awareness of Parkinsons through the use of comedy. Taking Shake It Up on the road will be entertaining and enlightening to a wider audience."
Parky Players' producer and agent is Susanna Clark who has produced work for theatres and festivals across the UK including the Edinburgh Fringe.
She moved to Nottingham in 2018 to set up her agency Ingenious Fools. She said, "having worked with a wide range of disabled and neurodiverse artists to develop shows and produce UK-wide tours, I'm delighted to be representing the Parky Players.
"This is an amazing production which breaks down the taboos of talking about Parkinson's. The feedback from audiences so far has been that it's already done so much to raise awareness of the experiences of people living with Parkinson's."
Shake It Up will tour to Chilwell Theatre, Nottingham on Thursday 7 April, the Museum of Making, Derby on Friday 1 July, Blue Orange Theatre, Birmingham on Wednesday 20 July and The Space UK, Edinburgh from Thursday 25 until Saturday 27 August.