Pushing the boat out in Keswick
Published: 4 May 2012
Reporter: David Upton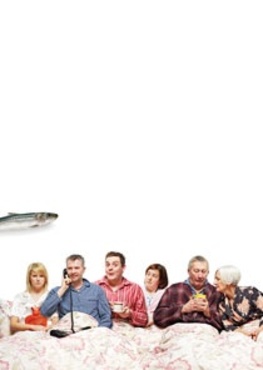 Two plays by masters of their respective theatre forms open at Theatre by the Lake in Keswick later this month. Alan Ayckbourn's Bedroom Farce, the wickedly funny comedy about marriage set in three bedrooms, takes to the stage of the Main House as Henrik Ibsen's masterpiece A Doll's House moves into the intense Studio.
The two productions launch a season of six plays, including a regional première and the world première of a Theatre by the Lake commission, that run in repertory until early November.
The launch of the new season follows the huge success of Alan Bennett's The History Boys, which broke box office records: it earned more money than any previous spring production in the theatre's 13-year history, playing to 85 per cent capacity.
In another first, Theatre by the Lake has brought to Keswick 14 actors—the largest company it has ever hired for a six-play season.
Bedroom Farce is followed in the Main House by Dry Rot, one of the string of farces staged by Brian Rix at London's Whitehall Theatre in the 1950s.
The final Main House production is an adaptation by Neil Bartlett of Great Expectations as Theatre by the Lake's contribution to the Dickens bicentenary celebrations.
A Doll's House is followed in the Studio by Colder Than Here, the regional première of a funny and heart-warming play by Laura Wade. At the centre of the play is Myra, a wife and mother who, with frank and wry observations, tries to unite her family as she prepares her own green funeral.
The final Studio play will be the world première of Roma and the Flannelettes: A Love Like Yours by Richard Cameron. The play was commissioned by Theatre by the Lake and has been nurtured in workshops by director Stefan Escreet.
Cameron has set Roma in a women's refuge in South Yorkshire. It is a contemporary story told with compassion, warmth—and lots of Tamla Motown music.
Theatre by the Lake seems to prompt actors to put pen to laptop: Peter Macqueen has had a regular column in the Keswick Reminder for more than two years. Now Louise Yates, an actor who will be at the theatre until November, has launched a blog about her time in Keswick: playeronthefells.blogspot.co.uk
The first three posts give an exhilarating insight into what goes on in the rehearsal room as she starts to learn her moves and lines for the first two play of the season. Hopes of "enjoying the beautiful Cumbrian landscape or going for dreamy walks by the river or strolling up to the standing stone circle to gaze on the timeless view" have already gone out of the window.
Details: www.theatrebythelake.com