Revenant takes production award at Buxton Fringe
Published: 24 July 2023
Reporter: Steve Orme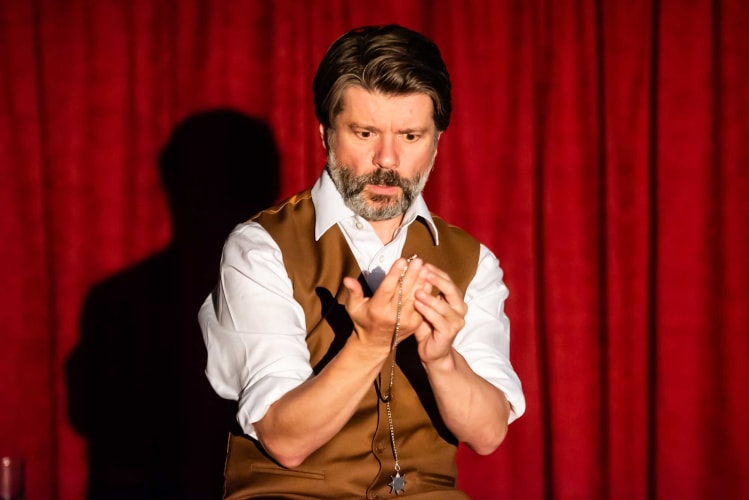 Manchester-based Devils and Dust won the production award at Buxton Fringe for its presentation of Stewart Roche's Revenant.
Patrick O'Donnell performed Revenant in the venue Underground at the Old Clubhouse. It involved a man called Carter finding the perfect location to shoot his zombie movie set during the Irish famine—a country house on an island off the coast of Mayo. When his lead actor dropped out the day before shooting started, Carter was faced with a difficult decision: pull the plug on his dream project or cast the mysterious Vardell, "an actor of incendiary talent but someone with a dark past that he knows precious little about".
At the Fringe awards ceremony, acting honours went to Nick Danan in Irish playwright Conor McPherson's supernatural tale St Nicholas and Heather Alexander for Room, presented by Emul8 Theatre Company and Sweet Productions.
David Head and Matt Glover won the new writing award for Unwanted Objects, a "magical exploration of sentimentality, our possessions and the meaning we attach to them".
The John Beecher Memorial Award for original, challenging work with high production values went to Lincolnshire-based Split Infinitive's A Caravan Named Desire. It was written by Alexander Millington and directed by his wife Helen Millington. Both performed in the play.
Buxton Opera House Young Company picked up the award for youth production for Risk by John Retallack, while Derbyshire's Ashgate Heritage Arts took the accolade for children's events with Mountains of the Moon, a new musical about a group of thirsty animals whose river is drying up.
At the ceremony, chair Stephen Walker looked back over a busy Fringe, noting that it had been "brilliant in terms of audiences" and that he had also been "really struck by the quality of work across the board".
A full list of nominations and award winners is available at the Buxton Fringe web site.