Royal Exchange sound designer takes playwriting award
Published: 26 November 2017
Reporter: David Chadderton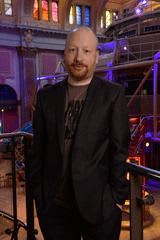 The £16,000 winner of the 2017 Bruntwood Prize for Playwriting was announced as Timothy X Atack, sound designer for Jubilee at the Royal Exchange Theatre in Manchester where the ceremony took place.
Bristol-based writer and composer Atack won the top prize for his play Heartworm, which follows a couple renting out their spare room to an odd guest who reveals that she grew up in the house. Despite their suspicions, the couple look past the initial incident, but as the situation escalates they start to rapidly question their decision.
Atack said of his award, which was presented to him by chair of the judging panel Kirsty Lang, "it is the most amazing boost to my confidence as a writer and theatre-maker. I'm truly excited for conversations to begin about making a play I'm very proud of in a theatre I really love."
Michael Oglesby CBE, Bruntwood Prize judge and Chairman of Bruntwood, called the winning play, "a beautiful piece of work and we are thrilled to be supporting him and the other Judges' Prize winners on their playwriting journey."
The three Judges' Prizes of £8,000 were awarded to Tim Foley for Electric Rosary, Laurie Nunn for King Brown and Sharon Clark for Plow. All four plays will be developed with the Royal Exchange Theatre and Heartworm will be co-produced between the Royal Exchange and Royal Court. The Manhattan Theatre Club in New York will also be supporting the development of Foley's play.
Lang said, "I think the Bruntwood Prize has become the Turner Prize of playwriting. British theatre is the envy of the world and the sheer number of submissions this year—1,898—is a testament to the vitality of new writing talent in this country. I am astounded at the quality and breadth of topics covered by the submissions.
"What is so remarkable from a judge's perspective is that the anonymity of the prize takes away any possible prejudices one could conceive. It was such a surprise to learn who the playwrights are, as they did not match the images in our heads when it came to gender, age, class or ethnicity. This year's winning play, Heartworm, centres around a wonderfully enigmatic and complex female character and I can't wait to see how she is brought to life."
Joining Lang and Oglesby on the judging panel were Russell T Davies, Alfred Enoch, Phil Porter, Lucy Prebble, Lyndsey Turner and Matthew Xia.