RSC African Caesar to tour to Moscow
Published: 13 July 2012
Reporter: David Chadderton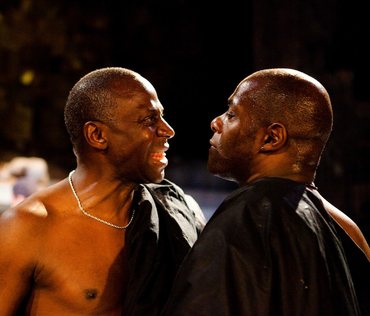 Gregory Doran's production of Julius Caesar for the Royal Shakespeare Company set in a modern-day African state will be presented by the Ministry of Culture of the Russian Federation at the Chekhov International Theatre Festival in Moscow in November.
The all-black cast includes Paterson Joseph as Brutus, Cyril Nri as Cassius, Ray Fearon as Mark Antony, Adjoa Andoh as Portia and Jeffery Kissoon in the title role.
This will be the first full-scale RSC production to be performed in Russia since John Barton's production of All's Well That Ends Well and Peter Hall's Macbeth starring Paul Scofield, which both visited Leningrad and Moscow in 1967.
Part of the World Shakespeare Festival, this production was at the Royal Shakespeare Theatre in Stratford-upon-Avon until 7 July and can be seen at Theatre Royal, Newcastle-upon-Tyne from 19 to 28 July and the Noël Coward Theatre in London from 8 August to 15 September.
It will then go on a short UK tour to Waterside Theatre in Aylesbury, Alhambra Theatre in Bradford, The Lowry in Salford, Norwich Theatre Royal and New Theatre in Cardiff before ending up on Moscow for five performances from 14 to 17 November.