RSC conjures up another storm in Stratford
Published: 24 March 2012
Reporter: Steve Orme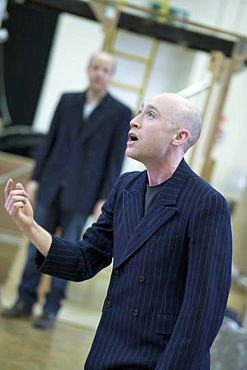 Shakespeare's shipwreck play The Tempest, the second of the trilogy in a season known as What Country Friends Is This?, opens at the Royal Shakespeare Theatre in Stratford this week.
Directed by David Farr, The Tempest joins The Comedy of Errors which is also in preview until next month.
The cast includes: Ankur Bahl (spirit), Sarah Belcher (spirit), Amie Burns Walker (spirit), Kirsty Bushell (Sebastian), Nicholas Day (Gonzalo), Sandy Grierson (Ariel), Stephen Hagan (Francisco), Felix Hayes (Trinculo), Amer Hlehel (Caliban), Solomon Israel (Ferdinand), Jan Knightley (boatswain/spirit), Bruce Mackinnon (Stephano), Jonathan McGuinness (Antonio), Kevin McMonagle (Alonso), Cecilia Noble (spirit), Jonathan Slinger (Prospero), Emily Taaffe (Miranda) and Sargon Yelda (Adrian).
The Tempest runs from Friday (30 March) until 19 May, with press performance on Tuesday, 1 May. After transferring to the Roundhouse in London it will return to Stratford from 13 July until 7 October.