RSC Production News
Published: 13 January 2012
Reporter: Peter Lathan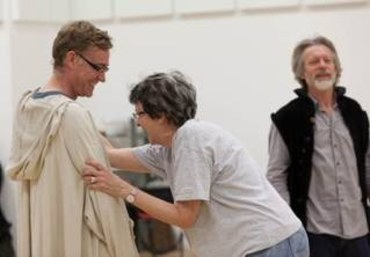 The Royal Shakespeare Company's Head of Movement Struan Leslie is creating a movement and text piece based on the Song of Solomon (also known as the Song of Songs) from the King James Bible. It is the 22nd book of the Old Testament and contains 117 verses – making it one of the shortest books in the Bible.
Struan Leslie said, "I am using the exact words from the King James Bible from 1611. And the first draft of our script is the eight songs. I really wanted to work on this text because it is sensual and passionate, and it's all about the body, which is my world. To hear someone using rich metaphorical language about the body is extraordinary. We will be combining that language with a physical expression of the sensual world of the text."
There will be three performances which will take place in the Swan on 28th February and 1st and 6th March.
He will be working with the cast and creative team for four weeks to create the piece. The cast includes three actors from the current Swan Winter Ensemble—Jim Hooper, Sam Marks, Demi Oyediran and Mark Quartley. Also in the cast are Liz Crowther and Joy Richardson. Joining the creative team are designers Emma Bailey and Georgia Lowe, and original music will be composed by RSC Head of Music, John Woolf.
Leslie has worked on the text before. "Twelve years ago I collaborated with the music, drama and dance departments of the University of Illinois and we devised an opera around it. This time round I'm trying to strip it away so we find the physical life of the text. What I want to try do over the four week rehearsal period is devise something with the actors, composer and musican about what it feels like to be in love."
Meanwhile rehearsals are underway in Stratford-upon-Avon for Helen Edmundson's The Heresy of Love. This new play, directed by Nancy Meckler, is based on the life of Sor Juana Inés de la Cruz, a poet, nun and major Baroque literary figure of Mexico.
Catherine McCormack plays the central role of Sor Juana Inés de la Cruz. Also joining the Swan Winter season specifically for this production are Dona Croll (Juanita), Marty Cruickshank (Brigida) and Diana Kent (Madre Marguerita).
The remainder of the cast is Teresa Banham (Sor Sebastiana), Geoffrey Beevers (Fray Antonio) Stephen Boxer (Archbishop Aguiar), Raymond Coulthard (Bishop Santa Cruz), Laura Darrall (Nun), Catherine Hamilton (Vicereine), Youssef Kerkour (Priest), Ian Midlane (Priest), Sarah Ovens (Angelica), Daniel Stewart (Viceroy) and Simon Thorp (Don Hernando).
The Heresy of Love will run from 8th February (previews from 2nd) to 9th March.