RSC reveals winners in search for new plays
Published: 23 May 2023
Reporter: Steve Orme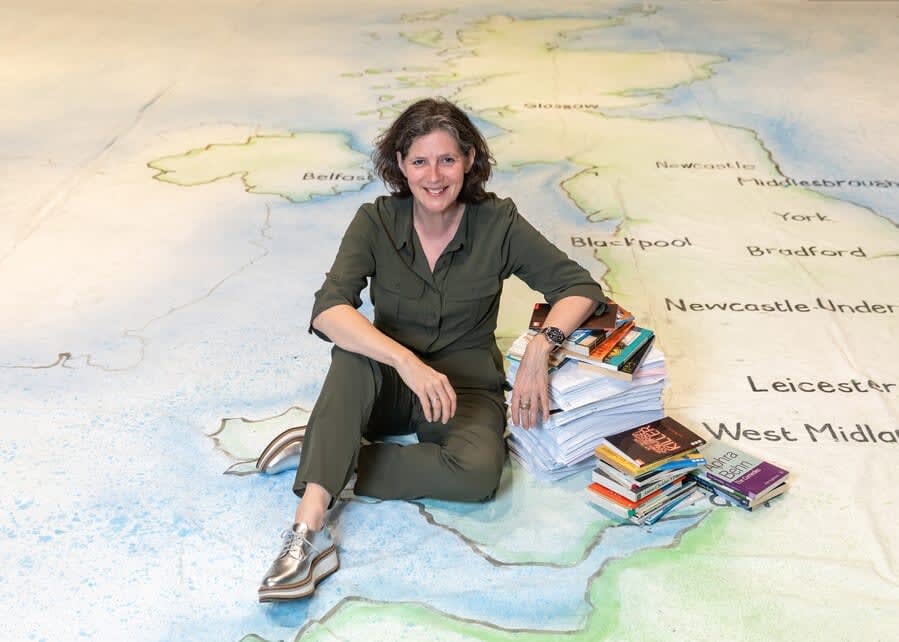 The Royal Shakespeare Company has revealed the winners of its nationwide playwriting search 37 Plays which attracted more than 2,000 entries.
Over a six-week period, 24 readers read 31 plays per week to create an initial longlist of 350 plays. From the longlist, 71 plays were shortlisted.
The final 37 plays come from writers all over the UK whose ages range from nine to 65. Nearly a third of the selected 37 plays are by first-time writers.
RSC acting artistic director Erica Whyman commented on "the wonderful variety, originality and quality of the plays on the shortlist."
She said, "every one of the shortlisted plays deserves attention and a production, so the decision-making was really hard. We chose the 37 to represent the widest range of ideas, voices and stories, deliberately including plays by accomplished writers alongside plays that showed enormous promise by first-time playwrights.
"We prioritised distinctiveness, invention and whether the play offered a particular insight into life in the UK now. We chose big-hearted comedies, unusual romances, dark and particular tragedies and fresh takes on our shared history."
Whyman added, "in a normal commissioning year we don't have dedicated resources to read unsolicited scripts, so we feel very privileged to have come to know so many writers new to us or plays by writers we already admired.
"The collection isn't only for us—it's designed to be a gift to anyone, from the most prominent stages in the country to community stages, schools, amateur companies and anyone who's looking for excellent and intriguing new work.
"We'll publish the collection this autumn by creating staged readings of every play, rehearsed and performed at all of our associate theatre partners and in Stratford at The Other Place and sharing them online. Ahead of that each writer in the 37 will receive bespoke dramaturgical support to take their play to the next draft."
Pippa Hill, head of new work at the RSC, added, "from a field in Scotland where a fish falls from the sky to a still, dappled woodland containing a sulky wood sprite; from a coral fringed island to the artificial sunlight on the deck of a spaceship via a futuristic hospital, to a horror-filled box of muffins on a police station reception desk, this folio of 37 plays takes us absolutely everywhere.
"We have plays written from the perspective of a woman covered in butterflies, an emotional support dog, a dancer in the early days of motherhood, a protesting farmer's wife tied to a solar panel, musicians in a mosque, a teenager who becomes a whale, a lost Guyanese man and a boy who suddenly finds himself at the battle of Hastings. This is just a selection of extraordinary characters that have been created by the writers of our 37 plays."
The chosen plays in the under-11 category are Alfie and War by Molly Sue Cartwright from Staffordshire, Bruno by Dylan Punch from Northamptonshire, FISH by Maximilian Kufuor from Northamptonshire, Frenemies by Edward Keppel from Northamptonshire and Stargazer by Grace Hemmings-Buckler, also from Northamptonshire.
Chosen in the 11 to 17 category are Abandoned by Felicity Williamson from Yorkshire, Land Wreck by Mia Lloyd from the West Midlands, Life Goes On by Isabella James from Northamptonshire, Momentary Masters by Jacob Thomas from Surrey and Stars by Abigail White from London.
In the 18 and over category, the judges picked And I Dreamt I was Drowning by Amanda Wilkin from London, Beltane by Billie Collins from Manchester, Butterflies by Rob Thorpe-Woods from London, Dreaming and Drowning by Kwame Owusu from London, Effort//less by Hayley-Rose Jarman-Norris from Devon, Evie of Windrush by Joan Jackson-Callen from London, Friday at the masjid by maatin from London, From Lewisham to Llandudno by Samantha Robinson from Edinburgh, Go Back Home! by Hannah Shury-Smith from Surrey, Godmodders and Metagamers by Hannah Kennedy from Buckinghamshire, Growing Pains by Hannah Eggleton from Buckinghamshire, Human Resources by Chloe Banks from Devon, Jack in a Box by Joanne Thomson from Lanarkshire, LilyPower by Amy Bethan Evans from London, North Star by Tom Murray from Cambridgeshire, NOT by Lisa Parry from Glamorgan, Pram Talk by Rosanna Jahangard from Berkshire, Radiant Boy by Nancy Netherwood from London, Re: Jane Doe by Patty Kim Hamilton from London, Russell by Eoin McAndrew from Northern Ireland, Still Life (with mangos) by Ruby Kitching from Yorkshire, Something to Take Off the Edge by Errol McGlashan from London, The Doris Effect by Tim Wallers from Shropshire, The Ever-Changing Sea by Jordon Grant from London, The Filleting App by Alex Oates from Northumberland, The Last Picture by Catherine Dyson from Glamorgan and This Is A Gift by Kolbrún Björt Sigfúsdóttir from Edinburgh.
All 37 plays will be awarded a fee for publication, performance and / or broadcast. A list of the 71 shortlisted plays can be viewed at the 37 Plays web site.