Russian Shakespeare at Stratford – but which play is it?
Published: 4 August 2012
Reporter: Steve Orme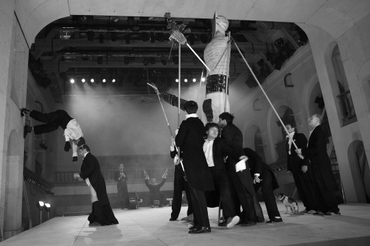 The world premiere of Dmitry Krymov's "unique" version of one of Shakespeare's most-loved comedies will be staged this week in Stratford.
A Midsummer Night's Dream (As You Like It) has been commissioned for the World Shakespeare Festival and will be performed in Russian with English surtitles.
Krymov said about the project, "We're not using Shakespeare's original text. This is not a translation of the play. It's more about the themes of Shakespeare's plays, and we tell the story with our own words.
"The play is called A Midsummer Night's Dream (As You Like It). We're playing with the names of Shakespeare's plays. It's like, for example, putting on and billing a play as Hamlet but making the story more like Othello.
"I want people to leave the theatre wondering which of Shakespeare's plays they've actually seen. I like to blur the boundaries of his work."
Krymov's productions are renowned for their innovative staging and breath-taking visuals, costumes and sets—making him one of the most original theatre directors working in Russia today.
Speaking about the cast and creatives, he said, "The designer is one of my former students, Vera Martynova. The acting team is a mix of actors from our laboratory and a group of specially invited acrobats, animal trainers and clowns.
"Some members of the technical crew will also appear on stage and perform their parts. Generally, in this production, everyone will play several roles."
World Shakespeare Festival director Deborah Shaw commented, "In Russia, Krymov's work is feted by festivals, critics and audiences alike, and seen as being at the forefront of contemporary theatre.
"In partnership with Chekhov International Festival, this production has been specially created for the RSC's new theatre in Stratford and the King's Theatre Edinburgh, as part of the World Shakespeare Festival residency at Edinburgh International Festival. Where better to introduce the work of this Russian visionary to British audiences."
A Midsummer Night's Dream (As You Like It) runs in the Royal Shakespeare Theatre from Friday (10 August) until Saturday, 18 August.