Sadler's Wells streams hip hop Breakin' Convention live on Bank Holiday Monday
Published: 6 May 2012
Reporter: David Chadderton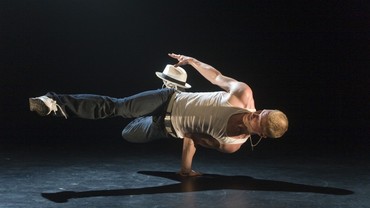 Sadler's Wells will live stream its hip hop dance festival Breakin' Convention on 7 May via The Space, a new on-demand web broadcast facility from Arts Council England in collaboration with the BBC.
Hosted and curated by Sadler's Wells associate artist Jonzi D with BBC 1Xtra's Sarah Love, the event will be live at www.thespace.org from 4PM with freestyling in the foyers, DJ demos from Tha En4cers, live graff jam and more, followed by Freestyle Funk Forum in the Lilian Bayliss Studio, interviews and backstage footage.
From 6PM, performances on the main stage will be featured with House that Union Jack Built (UK), B-Boy Ata (Finland), Clash 66 (France/Korea), Avant Garde Dance (UK), Gemini (France), Storyboard P (USA) and ILL-Abilities (International), and then it's back to the Studio for Kloe Dean (UK), Theo Godson Oloyade(UK) and Simeon Qsyea (UK).
The final pieces on the main stage from 8:30 to 9:30PM will be from Bodicea (UK) and Vagabond Crew (France).
After its Sadler's Wells debut, Breakin' Convention will tour to the following venues:
Friday 11 & Saturday 12 May Theatre Royal, Plymouth
Monday 14 & Tuesday 15 May Birmingham Hippodrome
Friday 18 & Saturday 19 May Edinburgh Festival Theatre
Tuesday 22 May Eden Court, Inverness
Friday 25 & Saturday 26 May Sheffield Lyceum
Tuesday 29 May Brighton Dome
Thursday 31 May Colston Hall, Bristol
Saturday 2 June West Yorkshire Playhouse, Leeds