Script Frenzy begins its sixth season
Published: 27 March 2012
Reporter: David Chadderton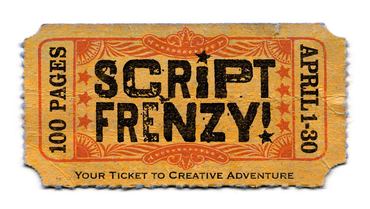 Script Frenzy, born from the National Novel Writing Month (NaNoWriMo) scheme which happens every November, is an annual online event to encourage anyone who has considered writing a script for any medium to get their heads down and do it.
Run by California-based The Office of Letters and Light, the event challenges budding writers to complete a 100-page script in thirty days from 1 to 30 April. Participants have to register online, but the whole programme is free to enter and to win a writer simply has to upload a PDF of a completed script, which is analysed by a computer to assess page count and destroyed without being read by a human being.
The event began in 2007, when it had 7,876 participants, including 50 in its Young Writers Program, and 1,072 winners, which by 2011 had grown to 19,123 participants, 2,204 winners and 2,850 young writers. The web site has built up a large resource of information as well as online message boards and interest groups to interact with other writers, plus offline communities of Script Frenzy writers have been created all over the world.
The point of the event is to focus those people who have always said they intend to write a script—whether for stage, screen, web or graphic novel—on getting to the end of a first draft, spurring them on with a fixed deadline and an award for completion.
Programme director Sandra Salas said, "When it comes to the arts, whether you write, paint, sculpt, compose music, or do something else entirely, it opens your mind to a whole other world and broadens the range of choices you have in your life. That's the intent behind Script Frenzy, changing people's lives one story at a time. We're inspiring thousands of kids and adults around the world to pursue their writing goals. What's better than that?"
For more information, see www.scriptfrenzy.org, or for the Young Writers Program see www.ywp.scriptfrenzy.org