September to December at Live
Published: 15 July 2012
Reporter: Peter Lathan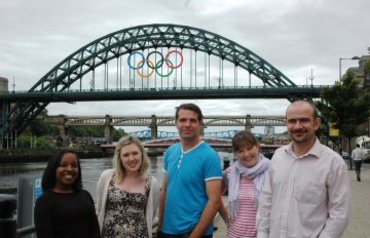 The autumn season at Newcastle's Live Theatre opens on 29th August with a full run of The Prize, a co-production between Live and Murmur, a new theatre company, based on interviews with past Olympic medal winners and aspiring first time competitors, after previews in Newcastle from 26th to 28th July and a run at the Edinburgh Fringe at the E4 Cow Barn in Bristo Square from 1st to 26th August.
Written by Steve Gilroy and Richard Stockwell, The Prize is one of the outstanding projects granted the London 2012 Inspire Mark, the badge of the London 2012 Inspire programme, which recognises exceptional and innovative projects inspired by the 2012 Games.
The season continues from 13th September to 6th October with Chalet Lines by Lee Mattinson. A Bush Theatre production in association with Live, the play began life as a rehearsed reading at the Newcastle theatre in 2010 and received a full production at the Bush earlier this year.
A further Live co-production, this time with Paines Plough and Salisbury Playhouse, follows from 30th October to 10th November. London by Simon Stephens tells two heart-rending stories about family and the choices they make for the precious things they love.
Part of Live Theatre's Live Lab - experimenting with new work first events is Mindy by Frazer Flintham from Thursday 27 to Saturday 29 September. This is a script-in-hand performance which explores how a little love and friendship can transform lives, if only for a short time.
More of the best new theatre from around the country including work by writers Verity Quinn and Beth Coverdale (the team behind When She Went), and a brand new show by Chris Goode, writer of the Edinburgh Fringe hit The Adventures of Wound Man and Shirley in Scratch Night presented by Live Theatre in conjunction with The Empty Space on 15th November.
The two companies are also launching a £1000 bursary and are on the look-out for theatre-makers or emerging theatre companies to explore different ways in which text and performance can be brought together. The award also includes developmental support and a public performance of their piece at Live Theatre in 2013, the company's 40th year.
Live will be taking part in Juice, NewcastleGateshead's Festival for children and young people, with I'm Just Saying... in which the concerns of young people are highlighted in six short plays written by 12 and 13 year olds from the West End of Newcastle in partnership with Excelsior Academy. Including everything from vampire fantasies, dealing with parental pressure over careers and not knowing if your Facebook friends are who they say they are.
Also part of Juice on 3rd November is Indiana Jones and the Empty Chair, described as a sensory explosion that combines spoken word theatre, riotous adventure, laughs a-plenty, young writers will serve food with poetic memories and perform their own original family-themed writing as they host guests at this unique event."
On 9th and 10th November, Live Theatre hosts the debut production by Theatre Auracaria, Bunker Blues. Set in a WWII bunker in Kenton in 1940, a little known but momentous day in Newcastle's history, audiences can join the ladies in blue as they reveal the secrets of the plotting room, the barracks and the dance halls too.
In December The Broken Christmas Cabaret (12th) is a dark alternative to the yuletide season, full of cabaret, theatre, music and poetry, and in the Youth Theatre's Christmas show Toy Stories theatregoers will take a magical journey into the world of toys in a Christmas family show.