Shakespeare's 'Africa play' opens in Stratford
Published: 27 May 2012
Reporter: Steve Orme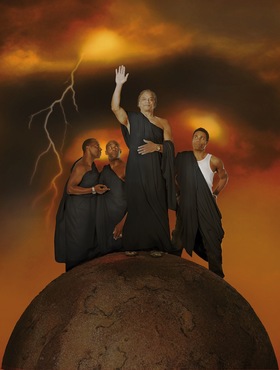 Gregory Doran, who directs Shakespeare's great political thriller Julius Caesar when it opens in the Royal Shakespeare Theatre in Stratford this week, has found dark, contemporary echoes in modern Africa.
Julius Caesar which is part of the 2012 World Shakespeare Festival features an all-black British cast.
Gregory Doran said, "One of the inspirations behind setting Julius Caesar in Africa was discovering the Robben Island Shakespeare and that Nelson Mandela had chosen to autograph lines from the play, asserting that it spoke in a particular way to his continent.
"It also struck me that there must be some reason why Julius Nyerere, the first president of Tanzania, translated the play into Swahili.
"The esteemed South African actor John Kani put it most succinctly when he told me that Julius Caesar is quite simply 'Shakespeare's Africa play'."
Doran's recent productions include Shakespeare's "lost" play Cardenio, re-imagined as part of the RSC's 50th birthday celebrations, and Hamlet which featured David Tennant.
The company includes Paterson Joseph as Brutus, Cyril Nri as Cassius, Ray Fearon as Mark Antony and Jeffery Kissoon as Caesar.
Julius Caesar opens in the Royal Shakespeare Theatre tomorrow (Monday). Press night is Wednesday, 6 June and it runs until 7 July.