Six women form chorus for Julius Caesar in Nottingham
Published: 21 April 2023
Reporter: Steve Orme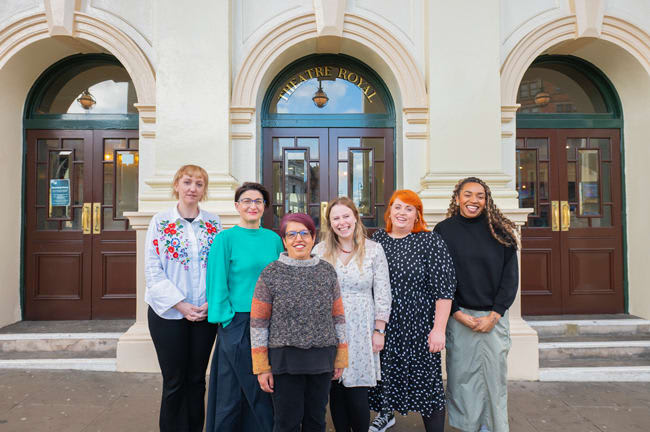 A Nottingham city councillor, a primary school teacher and a trustee for Nottingham UNESCO City of Literature will be among those taking to the stage as part of a community chorus when the Royal Shakespeare Company's Julius Caesar tours to the city's Theatre Royal.
This production of Julius Caesar will explore questions such as gender in leadership and power. The chorus will represent identities that have been marginalised, either at different points in history or in our world today.
Six Nottinghamshire women, Khaya Job, Emily Kelsey, Orla O'Connor, Shuguftah Quddoos, Laura Thurman and Becky Valentine, make up the chorus which will be integrated into various musical elements of the production and will appear as an otherworldly presence alongside a number of the characters in the play.
The Theatre Royal's director of programming Jonathan Saville said he is delighted to have the opportunity to bring such a diverse and influential group of local people together.
"These six women are all community leaders, experts in their respective fields, and together they combine to create a remarkable and inspiring group. Key themes in this production explore what makes a leader and ask questions about gender and power. Who better to take part than women who can share what they learn from this experience with the people they work with in the local community and the organisations they lead?"
The group is meeting weekly with Rachel Parkes, the local musical director for the show, and the theatre's participation practitioner Rebecca Morris to explore how to use their voices to express emotion, try out different vocal techniques and learn more about the world of the play.
The show's associate director, Lucy Waterhouse, and associate music director Helen Washington will visit the group at some point during rehearsals. The show's composer, Jasmin Kent Rodgman, and music director Lindsey Miller are also closely involved in shaping the role of the chorus.
When the RSC arrives at the Theatre Royal—one of the RSC's partner theatres—the group will rehearse with the professional actors and wider creative team, integrating the group into the production.
Julius Caesar will run at the Theatre Royal from Tuesday 23 until Saturday 27 May 2023.
Related listings

Julius Caesar - William Shakespeare (Royal Shakespeare Company)