Spring in Richmond's Georgian Theatre
Published: 13 January 2012
Reporter: Helen Brown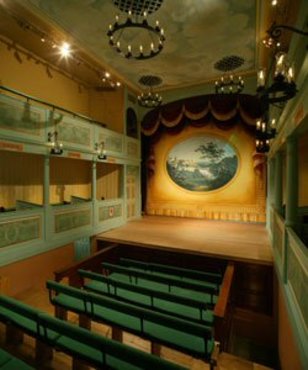 You might not realise that The Georgian Theatre in Richmond has a new chief executive, Kate Longmate. She arrived in July 2011 fresh from a senior management job at the Royal Lyceum Theatre in Edinburgh with a stack of experience and a friendly smile. She's already achieved critical acclaim for producing her first panto, The Adventures of Sinbad, in collaboration with Tony Lidington, which finished on 7 January.
She is excited about her first programme of events which start in February; her new look programme is full of theatrical gems. She's introducing new companies as well as a first ever season of family matinees on the second Saturday of every month which kicks off on Saturday 11 February with River Bank Productions' The Wind in the Willows, Kenneth Graham's timeless tale of the reckless Mr. Toad of Toad Hall. With four actors, puppets, original music and lots of 'joining in' this production is guaranteed to please family audiences, especially children aged between 4 and 9. Tickets are a massively reasonable £9.
On February 4 it's Shylock, the smash hit of Edinburgh Festival 2011. Written and directed by Gareth Armstrong, Shylock honours one of Shakespeare's finest creations in a performance that celebrates one of only two Jewish men in the whole of Shakespeare. Guy Masterson's one man show takes his audience behind the mask of this troublesome character from the Merchant of Venice and his gift for storytelling earned him a nomination for the best solo performance from The Stage.
Friday 17 February is the surprise hit Memoirs of a Biscuit Tin. All is not well at Number 92. Mrs Benjamin has disappeared, leaving her decaying house to fend for itself. So in an act of desperation, the house, determined to find it's missing owner sets off on a strange enchanting journey like no other. Described as mischievous new theatre that challenges audiences and tickles their imagination.
Something wicked for Saturday 18 February, Icarus Theatre Collective's most bloody and fear-filled tragedy, Macbeth.
Friday 24 February Joe's War, written by Lucy Bell, lifts the lid on the impact of war in Afghanistan on the forgotten army of wives, girlfriends and those people close to our soldiers.
Fagin's Last Hour is based on Charles Dickens' novel Oliver Twist and is told from the point of view of Fagin the Miser, one hour before his execution. This one-man show offers a fresh insight into literature's most controversial villains on Saturday 25 February.
Notable events for the rest of Spring include: Roll Out The Beryl, a celebration of the great British Comedy Actress, Beryl Reid, and an unmissable Germaine Greer with her one woman show: Forty Years of Feminism and Fun. To test your happiness Robin Ince plumbs the depths of his own murky consciousness without the aid of a safety net.
For more information, to request a brochure or book a ticket, http://www.georgiantheatreroyal.co.uk/