Stoke circus workshops are up in the air
Published: 24 July 2023
Reporter: Steve Orme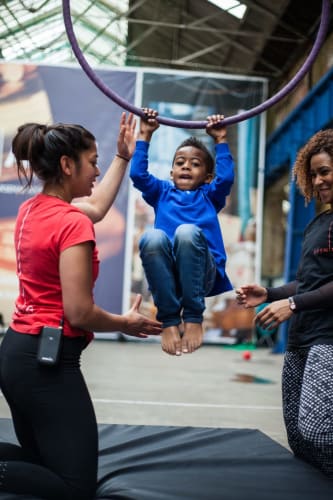 Newcastle-under-Lyme's New Vic is organising a series of free circus performances and interactive workshops with circus company Upswing.
Circus Flavours is a "high-energy experience that offers anyone aged seven and over the chance to live out their dreams of joining the circus". Upswing's associate artists will demonstrate and audience members will have a go themselves, trying out new skills.
The showcase will take place at locations in Stoke, beginning at the Potteries Centre on Saturday 5 and Sunday 6 August. It will then visit Smithfield in Hanley on Saturday 12 and Sunday 13 August, the Potteries Centre on Friday 18 and Saturday 19 August before it takes to the streets of Hanley as part of a free arts event, The Big Feast, on Friday 25 and Saturday 26 August.
Circus Flavours will be the first event as part of the New Vic's annual programme of work fusing contemporary circus with theatre which has been developed in partnership with Upswing.
Sign up for the free workshops at the Eventbrite web site.