Stratford's "fresh" version of Shakespeare history play
Published: 1 April 2012
Reporter: Steve Orme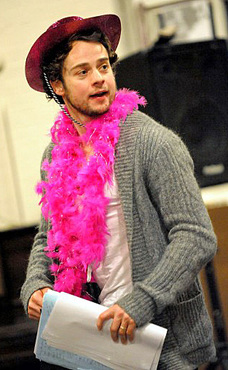 Alex Waldmann makes his RSC debut in the title role as King John, the second of three plays in a series called Nations at War, opens in the Swan Theatre at Stratford as part of the World Shakespeare Festival.
Swedish-born Maria Aberg directs her first Shakespeare production with this "fresh and contemporary" version of one of the Bard's rarely-performed history plays.
Her previous work for the RSC includes directing Roy Williams' The Days of Significance.
About Alex Waldmann she says, "I think he's absolutely phenomenal. It's very exciting to watch someone approach the part and feel that you've made the right casting decision.
"I think he's absolutely perfect. Alex is a lot younger than your average King John."
Maria Aberg has made some substantial edits to the play and has changed the gender of two of the characters: Pippa Nixon plays the Bastard and Paola Dionisotti plays Pandulph.
"It was an idea I first discussed with RSC dramaturg Jeanie O'Hare," she said.
"We did a draft and found that it changed the dynamic between a lot of the characters in an interesting way.
"And there's something quite glorious about seeing a woman play the sort of heroic warrior that you don't otherwise see played by women in Shakespeare.
"It was partly because it served the story well and partly it was my own personal curiosity to see a woman play that kind of part."
The cast also includes: Neal Barry (Pembroke), Iain Batchelor (Robert Faulconbridge), Simon Coombs (executioner), Sandra Duncan (Lady Faulconbridge), David Fielder (Salisbury), Mark Holgate (Melun), Mark Jax (Austria), Joshua Jenkins (Essex), Edmund Kingsley (Chatillon), Jim Kitson (executioner), Natalie Klamar (Blanche), Oscar Pearce (Lewis), Siobhan Redmond (Elinor), John Stahl (Philip of France) and Susie Trayling (Constance).
Set and costume designs are by Naomi Dawson; lighting is by David Holmes; sound by Carolyn Downing; and movement by Ayse Tashkiran.
King John previews from Friday (6 April). Press night is Thursday, 19 April and the production runs until Saturday, 15 September.