Teenage Kicks and Good Vibrations at Belfast's Grand Opera House
Published: 6 February 2023
Reporter: Michael Quinn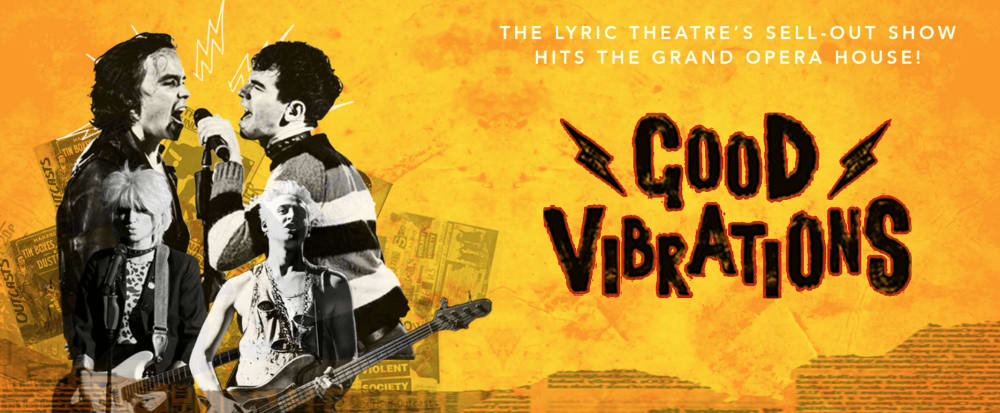 The Lyric Theatre, Belfast is to revive its hit punk-rock musical Good Vibrations at Belfast's Grand Opera House in May.
Based on the BAFTA-nominated 2013 film scripted by Colin Carberry and Glenn Patterson, Good Vibrations tells the story of the punk pioneer whose record store provided a safe, sectarian-free haven in late-1970s' Troubles-torn Belfast.
Hooley's 'Good Vibrations' shop was situated in Belfast's so-called 'Golden Mile', which has the Frank Matcham-designed Grand Opera House at one end of it and once boasted the dubious claim to be Europe's most-bombed thoroughfare. It quickly became the epicentre of a cultural revolution, Hooley himself elevated to the position of high-priest of a generation rejecting the conflict surrounding them.
First seen at the Lyric in 2018, the revival features iconic punk anthems including The Undertones' "Teenage Kicks", The Outcasts' "Just Another Teenage Rebel" and Stiff Little Fingers' "Alternative Ulster", and reunites the original creative team of writers Carberry and Patterson, director Des Kennedy (who helmed Harry Potter and the Cursed Child in the West End), musical director Katie Richardson and choreographer Jennifer Rooney.
The cast includes Glen Wallace (Hollyoaks, The Secret) as Terri Hooley, Jayne Wisener (Tim Burton's Sweeney Todd), Marty Maguire, Christina Nelson, Curtis-Lee Ashqar, Cat Barter, Gavin Peden, Chris Mohan, Odhran McNulty, Jolene O'Hara and Dylan Reid.
Lyric Executive Producer Jimmy Fay said, "the story of Terri Hooley and the punk bands he came in contact with is one of the great ballads of Belfast. It created music that has lasted and provided a soundtrack to many crazy, messy and fun-filled nights, and pointed towards a way out of the dark. We are delighted to bring this important story of Belfast's music history back to audiences at the Grand Opera House".
Good Vibrations opens at the Grand Opera House on May 9 and runs until May 20.