The Festival of the North East 2013
Published: 1 June 2013
Reporter: Peter Lathan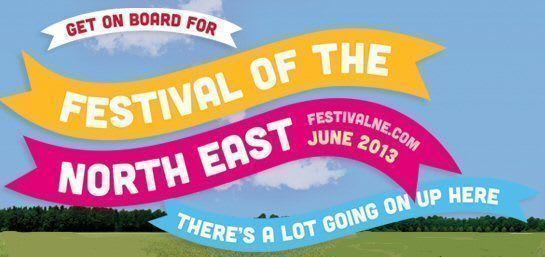 The Festival of the North East 2013 begins today, Saturday 1st June, with hundreds of events in all genres. Theatre/dance events are:
The Unfolding Sky – Turner in the North
Dora Frankel Dance
A re-imagining of the extraordinary depictions of the Northumberland countryside, captured on canvas by the great English landscape painter JMW Turner. A collaboration between artistic director and choreographer Dora Frankel and innovative composer Peter Coyte, performed in the open air by three dancers
1st June at 7pm at Bamburgh Castle
8th June at 7pm at Lindisfarne Priory
13th June at 7pm at Tynemouth Priory
14th June at 7pm at Bowes Museum
15th June at 7pm at Warkworth Castle
20th June at 7.30pm at Dance City, Newcastle
22nd June at 7pm at Bede's World, Jarrow
Associated events: Meet the Artists at St Chad's Church, Bensham, Gateshead at 6.30pm on 4th June and "pop up" performances at Tynemouth Station on 9th and 12th to 14th.
A Wondrous Place
Presented by Northern Spirit, in association with New Writing North, Northern Stage, the Royal Exchange Theatre, Sheffield Theatres, and Unity Theatre.
Four brand new short stories for the theatre, each offering a fresh, surprising and vibrant perspective on four amazing North of England cities: Sheffield, Liverpool, Manchester and Newcastle.
Stories by Luke Barnes, Alison Carr, Matt Hartley and Sarah McDonald Hughes.
Northern Stage, Newcastle, from 4th to 6th June at 8pm.
Any Good Thing
Backscratch Theatre
A kaleidoscopic journey through the folksongs of the Northlands –which will take you from the stark realism and gallows humour of 19th century mining communities, to the fantastical epics and bloodcurdling ballads of the mythical mediaeval north. Told with energy, humour, music and song, Any Good Thing goes in search of what it is that captivates us as storytellers and as audience, and dives below the surface to find out what makes a good folk-tale tick.
7th June at 7.45pm at the Theatre Royal Studio, Newcastle.
8th June at 1pm and 7pm at Beamish Museum.
9th June at 7.30pm at St Chad's Church Hall, Stanhope
Know Your Place
University of Sunderland
An interactive performance piece, which pitches you—the audience—at the centre of a rigid and ridiculous social system, over which, you must triumph. Your social position dictates how you can move. The upper class will move freely, whilst the poorer man will have to be more creative…
8th June at 1pm in the Edinburgh Building, University of Sunderland, Chester Road.
Beneath the Boards
Mill Volvo Tyne Theatre
Take a tour around a theatre that has been at the heart of North East Culture for over a century, and meet some of the characters and players that brought this venue to life over the decades. Who knows who may be lurking beneath the boards?
The magnificent 19th century auditorium, and original Victorian under-stage machinery (unique in Britain), is brought to life by actors from Newcastle College Performance Academy in a script by Benjamin Schwarz and Dale Pearson from Newcastle University, directed by Christopher Campbell and Hannah McCormick.
17th June / 19-20th June / 24-26th June at 6pm and 8pm
Bones
By Peter Straughan
Set in the seedy underworld of 1960s Gateshead, Peter Straughan's hilarious romp follows the antics of two brothers whose run-down porn cinema becomes the focus of an outrageously comic tale of violence and mayhem.
18th to 22nd June at the People's Theatre, Newcastle.
The Answer to Everything
Streetwise Opera
Streetwise Opera's 10th anniversary film and opera commission featuring new music and a film cast of 100 Streetwise Opera performers who have experienced homelessness.
This opera film will be screened as an integrated part of a live show, where both audience and performers participate as delegates at a fictional business conference. Corporate confidence at Locateco Solutions appears sky high, but as music floods the conference centre, the delegates on and off screen begin to question whether their radical re-homing solution really is the 'answer to everything.'
19th June at 6pm at the Tyneside Cinema, Newcastle.
Guts
By Peter Dillon.
A site-specific, multi-media production, which weaves together Newcastle's industrial history with a fictional attempt to replace Dobson & Grainger's city centre with a gated leisure complex for the rich. But then something stirs in the sewers, fiercely opposed to private greed – a natural force, activated and primed to go threatening Newcastle's future existence.
The production will deploy illustrated animation from Robert Jefferson, design by Keith McIntyre, film archive, performance, filmed extracts, and will utilize the unique setting of the Mining Institute's Lecture Theatre and Gothic Hall.
19 – 22 June / 24 – 25 June / 27 – 29 June at 7pm and 2pm on 22 and 27 June at Neville Hall, Westgate Road, Newcastle
Violence
ARC Stockton
A new work-in-progress collaboration between playwright Kieran Hurley and director Alex Swift, this is an unflinching investigation into the subtle, and not-so-subtle, ways in which violence shapes our lives.
21st June at 5.30pm at ARC Stockton.
Story Hunt
By Daniel Bye
Nothing significant ever happened here. Not in Gateshead, or Stockton, or Berwick.
Actually, yes, it did.
Daniel Bye presents Story Hunt – a treasure hunt-meets-walking-tour of a town's many presents, those that have been and those that are yet to come. Stroll through sights that can no longer be seen. Marvel at monuments that are yet to be raised. Find out how a man who dove into the river in 1786 is changing the world for us all, now!
Something significant did happen here, and it will happen again. Because we are all part of history, and we all, every one of us, can change it.
22nd to 29th June in Gateshead, Stockton and Berwick. For booking details visit the web site.
The Bonny Moorhen
Drama in the Dale
A cast of local actors, musicians and singers in an epic true tale from 1818 when a group of starving lead-miners rose up against the Prince Bishop of Durham to assert their right to hunt, kill and eat the red grouse, a native game bird. The affray, which was known as The Battle of Stanhope, was immortalised in song before becoming the inspiration for an award-winning play by celebrated singer-songwriter Jim Woodland.
In this a new version, created specially for Festival of the North East, the story will be played out promenade style on site at Killhope Lead Mining Museum.
22 - 23 June and 29 - 30 June at 4pm at Killhope Lead Mining Museum
Tyne
By Michael Chaplin
Journeying in time and space, along the banks of the Tyne this brand new play maps the epic history, atmosphere and soul of this mighty river in story, music and images.
Commissioned as part of Live Theatre's 40th birthday celebrations, Tyne features the stories of some of the greatest writers of the North East who have collaborated with Live Theatre since it began in 1973. Created and edited by Michael Chaplin, the play dramatises extracts from his book Tyne View, woven together with stories from Tom Hadaway, Julia Darling, Alan Plater and Sid Chaplin. Illustrated with evocative imagery of the river, Tyne is accompanied by live songs and music inspired by the river compiled by the show's musical director, Kathryn Tickell.
27th June to 27th July at Live Theatre, Newcastle.
Searching for the City of Sanctuary
One hundred vulnerable and marginalised people present us with an inspiring and imaginative manifesto for a new way to live in the city. Together with a collection of artists and people from the Social Care sector, they have worked together to develop a theatrical performance consisting of a diverse collection of small narratives—voices from the margins—probing the stratified meanings of homelessness, exclusion and disillusionment.
Created by people connected to The Cyrenians, Freedom From Torture, Northumbria University, West End Refugee Service, and St John the Baptist Church.
27th June at 7.30 at St John the Baptist Church, Newcastle.
The GB Project
Northern Stage
An epic tale told on an intimate scale, inspired by maverick British adventurer Gertrude Bell. A witty and rousing look at the impact of Western women on the shaping of the modern day Middle East. The GB Project fuses fragments of text gathered from diaries, letters and biographies, alongside contemporary voices, speeches and iconic footage to raise questions about history, legacy, loyalty and love. Created in collaboration with award-winning writer and director Steve Gilroy, and musician Richard Dawson.
28th June at 8pm at Northern Stage