Titanic production for Cathedral
Published: 8 June 2012
Reporter: David Upton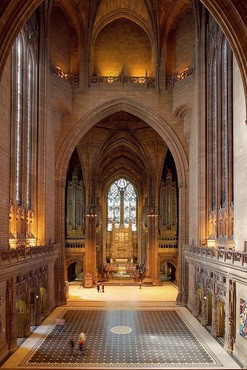 A unique, large-scale, multimedia theatrical event takes place in the heart of Liverpool Cathedral in the autumn, conceived and created by Cut to the Chase Productions artistic director Jen Heyes.
Treasured—from Monday to Saturday October 1-6—will see the landmark transformed into a living, breathing canvas of Titanic proportions.
Jen explains: "Treasured will be delivered by highly skilled professional performers, with original live and recorded musical composition, never before witnessed film and aerial theatre. Treasured will be an experience that is truly unique, a theatrical and thought provoking spectacle.
"Based on the Titanic story it will not simply be a re-telling of the events leading up to the tragedy that cost the lives of so many innocent people but also invite audiences to consider who and what we treasure in our lives and why we treasure them"
Eryl Parry, Director of Enterprise for Liverpool Anglican Cathedral, said "We are really excited at the prospect of this production in the Cathedral! It's such an awesome building, but will really come to life in a new way with such powerful performances planned—even from the walls and above our heads! We're sure that they will be six nights that will live long in the memory and will forever touch everyone fortunate to get a ticket."
Details: www.everymanplayhouse.com