Tulipmania play set to flower in Birmingham
Published: 9 June 2012
Reporter: Steve Orme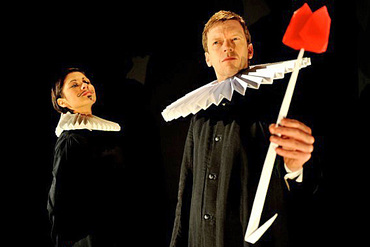 Two examples of financial bubbles bursting are being brought together by Birmingham REP and Stan's Café in The Just Price of Flowers which starts a run this week as part of the REP's off-site season.
The production, which compares the price of 17th century Dutch tulips with the current global economic meltdown, is told in the style of Bertolt Brecht.
The Just Price of Flowers explains how a passion bordering on madness developed for tulips in Holland in the 17th century. Their price rose so rapidly that people saw the chance to make a killing through speculative buying.
For a time tulips were sold for the price of a house, creating what became known as tulipmania. But soon afterwards the bubble burst.
The Just Price of Flowers follows a family chasing their dream of wealth through the growing complexities of futures trading, credit ratings, sub-primes and the horror of short selling.
The play is written and directed by James Yarker, with lyrics by Craig Stephens and music and origami by Brian Duffy.
A cast of seven comprises Stan's Cafe associate director Craig Stephens and associate artist Jack Trow; Gerard Bell; Charlotte Gregory; Bernadette Russell; Jill Dowse; and Valerie Cutko.
The Just Price of Flowers runs at A E Harris, 110 Northwood Street, Birmingham B3 1SZ from Friday (15 June) until Saturday 30 June.