We Will Rock You 10th anniversary show
Published: 20 March 2012
Reporter: David Chadderton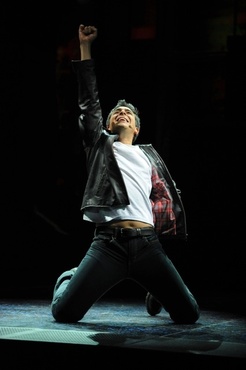 Queen and Ben Elton's jukebox musical We Will Rock You will stage a special performance for its tenth anniversary on 14 May.
The show has been running at the Dominion Theatre in London since 14 May 2002 and has built up fierce loyalty from its fans, some of whom have seen the show more than 400 times, to counter almost universal condemnation from the critics. The show has now been seen by more than 6 million people at the Dominion and 13 million worldwide and has won audience-voted awards at the 2003 What's On Stage Awards and the 2011 Olivier Awards.
The publicity surrounding the event is hinting at the appearance of celebrities at the performance without mentioning names, but it is likely that the show's creators, Queen's Roger Taylor and Brian May and scriptwriter Ben Elton, will appear on stage.
Tickets will go on sale for the anniversary performance on Thursday 22 March from 10AM, including a limited number of priority seats. For details, see www.wewillrockyou.co.uk or telephone the ticket line on 0844 847 1775. The performance will start at the earlier time of 7PM.