What's on in the North East
Published: 20 February 2022
Reporter: Peter Lathan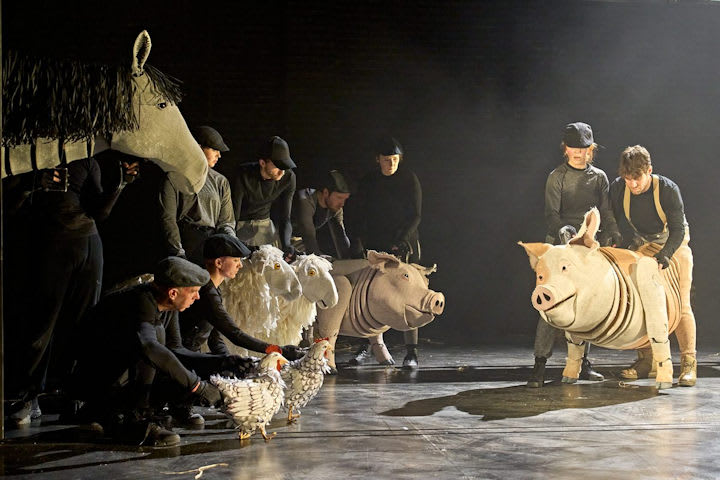 Robert Icke's version of Animal Farm, a Children's Theatre Partnership production, comes to Newcastle Theatre Royal from Tuesday to Saturday.
Northern Ballet's Pinocchio, for ages 3+, is in Stage 1 at Northern Stage on Friday at 11:00, 2:00 and 4:00. On the same day in Stage 3, Theatre Space NE presents Girl in the Machine.
At Alphabetti Theatre from Tuesday until 12 March at 1:00 plus a 9:30 performance on Thursday 24 February (school groups only 1–4 March & 8–11 March), Alphabetti Theatre and Life & Limb Puppets presents Dragon by Chloe Flockart & William Steele for ages 5+. On the same dates at 7:30, Alphabetti Theatre and Anna Robinson present one-woman play No. 9 by Anna Robinson.
On Sunday at 7:30, The Russian State Opera presents Madama Butterfly at the Tyne Theatre and Opera House.
On Saturday, Rendez-Vous Dance brings The Monocle to Dance City.
Dreamgirls comes to Sunderland Empire from Wednesday until 5 March.
From Wednesday to Friday (various times), The Customs House presents Arbuthnot and Dickson into the Piggieverse, a family pantomime adventure.
Snow Play, a showdown between Winter and Spring over who gets to stay and who has to go away (for ages 3+), is at Alnwick Playhouse from Wednesday to Friday (various times).
Northern Stage's production of The Invisible Man is at The Phoenix, Blyth, on Thursday.
The Invisible Man moves to the Henry Travers Studio at The Maltings, Berwick, on Saturday at 8:00.
Tom Whalley's Dick Whittington—an Adult Panto comes to Seaton Delaval Arts Centre on Friday and Saturday and then from 3–5 March (all shows at 7:30).
Family show Cinderella's SnapTok comes to Durham's Gala Theatre on Friday and Saturday at 11:00 and 2:00.
On Thursday at 7:00, Rendez-Vous Dance brings The Monocle to The Witham, Barnard Castle.
At Billingham Forum from Tuesday to Saturday (various times during the day), Tom Rolfe Productions presents The Wizard of Oz and on Friday and Saturday the same company presents the adult panto Sleeping with Beauty.
At Middlesbrough Theatre this week, Immersion Theatre presents a musical version of The Wind in the Willows for families on Tuesday at 3:00 and 6:00. This is followed on Wednesday at 7:30 by New Old Friends in Crimes, Camera, Action.
Milkshake! Live is at Darlington Hippodrome on Monday at 1:00 and 4:00. Then on Saturday at 10:30 and 1:00, Fireman Sam is that the theatre, followed that evening at 7:30 by Fascinating Aïda. On Sunday and Monday (27 and 28, various times) it's the turn of children's show Dear Zoo.
On Tuesday at 10:15 (sold out), 11.15 (sold out) and 1:00 (suitable for 2- to 4-year-olds), storyteller Chris Connaughton tells Tales with Toads at The Hullabaloo, Darlington.
The Russian State Opera comes to The Royal Hall, Harrogate with Carmen on Tuesday and Madama Butterfly on Wednesday.
On Friday and Saturday, LipService brings their latest comedy, Chateau Ghoul, to Harrogate Theatre.