When screen and stage collide
Published: 30 March 2012
Reporter: David Upton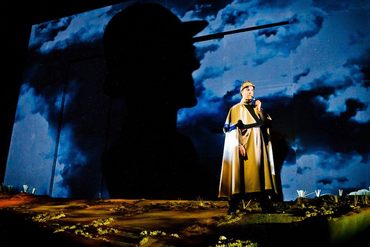 Cinema and theatre collide in a new season at The Dukes in Lancaster from April to June. Their Intermission Season celebrates the venue's dual use as a home producing theatre and independent cinema—making it unique in the North West.
Among treats in store are a chance to Scratch N Sniff The Goonies, experience a new film and live action version of a Sherlock Holmes adventure, watch a spellbinding classic film featuring shadow puppetry and a live score, and even Sing-A-Long-A-Wicker Man.
The Intermission Season launches on April 17 with Oldham Coliseum's The Hound of the Baskervilles, brought to life using film and live action, which runs until April 21.
The life of a man permanently trapped in the present is explored through dynamic physical action and 3D animation in 2401 Objects presented at The Dukes on May 12 following its standout success at last year's Edinburgh Festival Fringe.
The first film of the Intermission Season is The Adventures of Prince Achmed (PG), a spellbinding classic loosely based on 1001 Arabian Nights. It makes innovative use of silhouette and shadow puppetry and when screened on May 13, Lancaster-based composer Andy Whitfield will be performing a live score accompaniment.
The Dukes then offers Scratch N Sniff The Goonies (12A) on May 20. Experience the eighties classic with an added sensory dimension using scratch n sniff cards to trigger memories and the sweet smell of adventure. Fancy dress is actively encouraged.
A fusion of live animation, music and puppetry combine in The Rock Charmer, a bewitching live film created on stage on May 24.
To bring the season to a finale, there's Sing-A-Long-A-Wicker Man (18) on June 16 with live music, singalongs, super 8 screenings and other treats.
Details: www.dukes-lancaster.org