WNO returns to Birmingham with two major productions
Published: 1 October 2021
Reporter: Steve Orme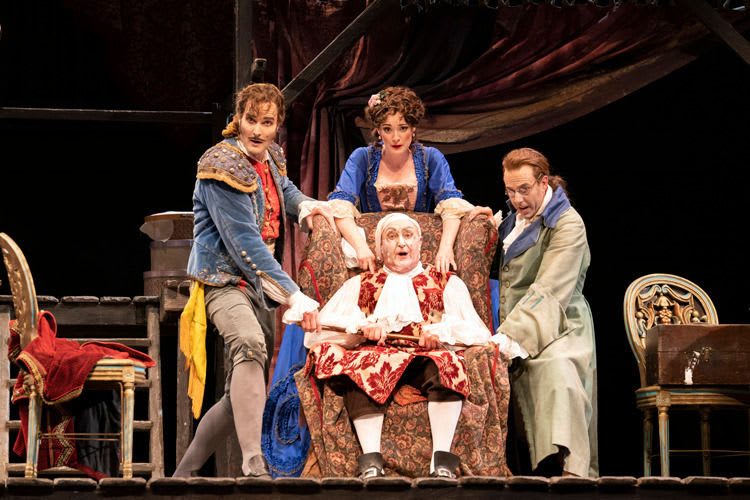 Welsh National Opera returns to Birmingham Hippodrome for its autumn 2021 season with Giles Havergal's original 1986 production of Rossini's The Barber of Seville and a new version of Puccini's Madam Butterfly.
In The Barber of Seville, Havergal directs and Frederick Brown conducts. This production was last performed by WNO in 2011 with Andrew Shore again playing Dr Bartolo.
Nicholas Lester is back with the company as one of opera's most colourful characters Figaro, with Nico Darmanin reviving the flirty and flamboyant Count Almaviva. Heather Lowe is Rosina and Keel Watson makes his WNO debut as Basilio before taking on the role of The Bonze in Madam Butterfly.
The new production of Madam Butterfly is directed by Australian Lindy Hume. Laureate Carlo Rizzi conducts. Set in a dystopian future where love is a commodity, the production is "not only true to Puccini's moving score but provides perspective on the relevance this story still has in society today". The set and costumes are designed by Isabella Bywater and lighting designer is Elanor Higgins.
Soprano Joyce El-Khoury shares the role of Cio-Cio San with Alexia Voulgaridou who makes her WNO debut. Others making their company debuts are Leonardo Caimi, described as "one of the most acclaimed tenors of his generation", in the role of Pinkerton and Neil Balfour as Prince Yamadori. The role of Pinkerton is shared with Peter Auty. Suzuki will be played by Anna Harvey. Completing the cast are Tom Randle and Mark Stone.
Laureate Carlo Rizzi said, "the story, the drama and the characters of Madam Butterfly come to life through Puccini's music. This is why this piece will always feel modern and relevant to me and this is why it's endured the test of time.
"I believe that this opera and particularly Cio-Cio San with her strong and complex character speak very specifically to each new generation of opera-goer. It's this magic that I hope to share with the WNO audience."
WNO will also be staging a series of concerts in schools, giving many students an introduction to opera and classical music.
Madam Butterfly will be performed at the Hippodrome on Tuesday 19 and Wednesday 20 October. The Barber of Seville can be seen on Thursday 21 and Friday 22 October.